Students protest in Mizoram as 7th Governor is sworn-in in less than 9 months
Students protest outside the Raj Bhavan. (Source: Express photo by Adam Halliday)
Students protested with banners, speeches and slogans outside Raj Bhavan on Saturday as West Bengal Governor K N Tripathi was sworn in to become the seventh Governor of Mizoram in a little less than nine months.
"It is deeply insulting for the state of Mizoram to be used as a place where the Government of India dumps those Governors it wants to quit.
If this is going to continue the Centre might as well make provisions for the state to function without a Governor," said Lalhmachhuana, president of the Mizo Zirlai Pawl (MZP or Mizo Students' Association) which led the protest.
The MZP has said it plans to continue its protest by laying siege to all central government offices from next week and holding more protests when President Pranab Mukherjee arrives in Aizawl on April 9 to preside over the convocation ceremony of Mizoram University the following day.
Tripathi was handed additional charge of Mizoram when Aziz Qureshi was sacked from the post a week earlier. He was on Saturday administered the oath of office by Gauhati High Court Justice Michael Zothankhuma Pachuau.
Excluding Vakkom Purushothaman, who quit shortly after being transferred to Nagaland last July, no Mizoram Governor since his ouster has been in office for longer than 17 weeks.
Kamla Beniwal, who was ousted from Gujarat where she had a running fight with then CM Narendra Modi, spent just 28 days in Aizawl before being sacked.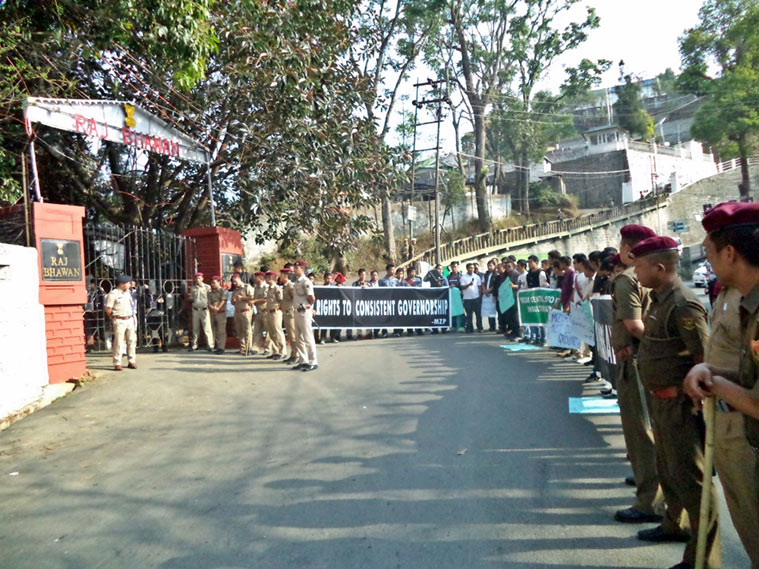 Her successor V K Duggal, who held additional charge of Mizoram, was in office for just 20 days.
Former Maharashtra Governor K Sankaranarayanan refused to join office, while K K Paul held additional charge of the state for 114 days.
Aziz Qureshi, who had said publicly he intended to spend the remainder of his term (till 2017) in Mizoram spent just 78 days in the Raj Bhavan.
Various political party leaders have in the past also spoken out against the frequent change of Governors, saying the Centre is using the state as a "dumping ground".
Source:: Indian Express