Why Ashok Khemka could be becoming a Twitter star
IAS officer Ashok Khemka
Haryana IAS officer Ashok Khemka, who was controversially transferred for a record 45th time in his 23-year bureaucratic career, has become quite a Twitter personality of late. For someone who has 139 tweets, Khemka has an impressive 81,000 followers.
For the uninitiated, Khemka was an ordinary IAS officer — just one among thousands of civil service professionals slogging it out in various government departments in the country. And then in 2012, he hit national headlines for daring to mutate a controversial land deal between Robert Vadra, son-in-law of Congress president Sonia Gandhi, and DLF, a real estate company, in Haryana. The news had shaken the country, raising questions about financial impropriety of a man who is considered to be powerful just through his political and family connections.
From nowhere, Khemka became a darling of the media — a symbol of an honest bureaucrat fighting it out against a corrupt system. But he was also repeatedly targeted by the same system – flinging him to different departments through controversial transfers and often receiving death threats through anonymous phone calls.
The year 2014, however, brought in a change of guard — with the Congress, that was battling severe anti-incumbency giving way to a resurgent BJP. A few months later, Haryana, where Khemka was posted, also witnessed a change of regime with the Congress suffering a humiliating defeat at the hands of the BJP.
But the news of Khemka being transferred yet again, a few days ago, to an inconsequential department of Archaeology and Museums by the BJP government has puzzled many. The BJP on its part distanced itself from the episode by saying that the transfer was 'routine.'
While reasons behind Khemka's transfer continue to elude the general public, an analysis of his Twitter profile is interesting. A report by simplymeasured.com shows that 69% of his audience (followers) have come in the last one week or so. His Twitter topics have majorly revolved around politics, money and media — a reflection of his work.
Also, the report shows that 81% of Khemka's Twitter audience have followers between 0 and 100.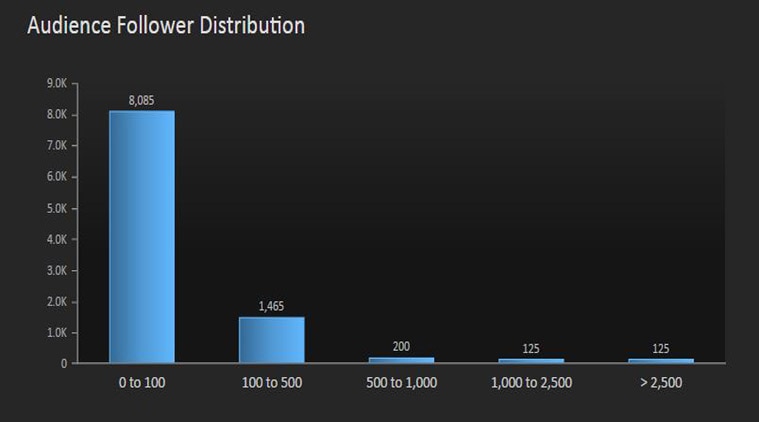 One can assume that most of his audience have come after his tweet on the day of his controversial transfer. In the tweet, he said that the moment of his transfer was truly painful for him and that he had always 'tried hard to address corruption and bring reforms in Transport despite severe limitations and entrenched interests.'
Tried hard to address corruption and bring reforms in Transport despite severe limitations and entrenched interests. Moment is truly painful

— Ashok Khemka, IAS (@AshokKhemka_IAS) April 1, 2015
Some of his other tweets, which have been widely re-tweeted, are in connection with the Vadra-DLF case, and the death of IAS officer DK Ravi, who was found hanging at his Bengaluru home.
#CAGreport My action in VADRA-DLF land-license deal vindicated in CAG report, but continue to suffer the stigma of charge sheet.

— Ashok Khemka, IAS (@AshokKhemka_IAS) March 25, 2015
D.K.Ravi's death probe be handed over to an agency independent of the State Government.

— Ashok Khemka, IAS (@AshokKhemka_IAS) March 18, 2015
Source:: Indian Express