Ajay Maken meets President, seeks legal action against CM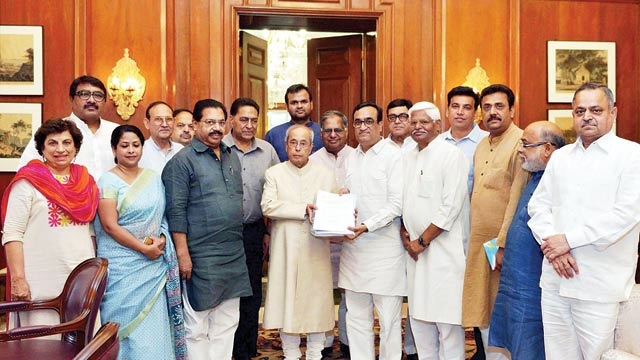 Seeking action against Delhi Chief Minister Arvind Kejriwal, Delhi Congress Chief Ajay Maken met President Pranab Mukherjee on Thursday and sought registration of an FIR against the Aam Aadmi Party (AAP) leader for siphoning off public funds to extend illegal benefits to the party. Quoting the Shunglu Committee report, Maken submitted a memorandum to the President in this regard.
The Shunglu Committee report, which examined 404 files of the Delhi government, has indicted the Kejriwal government in various cases of corruption and gross abuse of official position. Various public servants within the AAP government, including the Chief Minister himself, have been named in the report.
"The detailed Shunglu Committee report finds Kejriwal guilty of misusing public office and extending pecuniary and valuable benefits to himself, his Cabinet colleagues, and AAP affiliates. I have appealed to the President to file an FIR against him, his ministerial colleagues, and the Delhi government officials under the Prevention of Corruption Act 1988,"Maken said.
Former Comptroller and Auditor General V K Shunglu, Former Chief Election Commissioner N Gopalaswami, Former Chief Vigilance Commissioner Pradeep Kumar examined 404 files pertaining to various decisions taken by the AAP government, and unearthed many serious cases of corruption and irregularities under the Kejriwal …read more
You may also like...