Gujarat: BJP, Congress workers fight to garland Ambedkar statue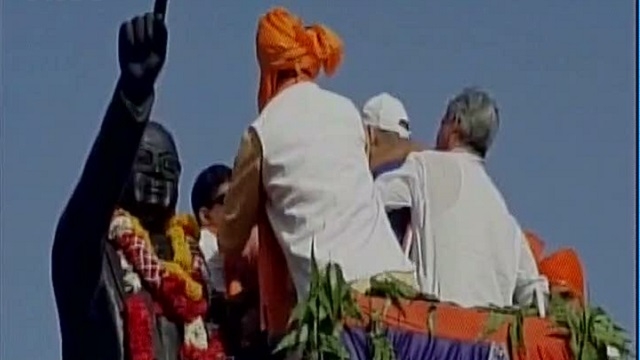 On Babasaheb Ambedkar's 126th birth anniversary, a scuffle broke out between the Bharatiya Janata Party (BJP) and Congress workers in Vadodara, Gujarat.
The brawl broke out between workers when they were trying to garland a statue of Ambedkar.
Gujarat: Scuffle between BJP and Congress workers while trying to garland statue of #babasahebambedkar in Vadodara pic.twitter.com/Wjul9tkCy2

— ANI (@ANI_news) April 14, 2017
Meanwhile, in Maharashtra the celebrations were held in traditional fervour. In Nagpur, Prime Minister Narendra Modi paid tributes to Ambedkar at Deekshabhoomi, where the architect of the Constitution embraced Buddhism in 1956 with a large number of followers.
In Mumbai, state Education Minister Vinod Tawde visited Chaitya Bhoomi, the memorial of Ambedkar, and offered floral tributes on the occasion.
Memorial speeches were delivered at special functions and tributes offered in various parts of the state.
(With ANI inputs)
ReportIndiaDNA Web TeamDNA webdesk
Date updated:
Friday, 14 April 2017 – 1:40pm
You may also like...