Bareilly: 24 charred to death, 14 suffer serious burn injury as bus catches fire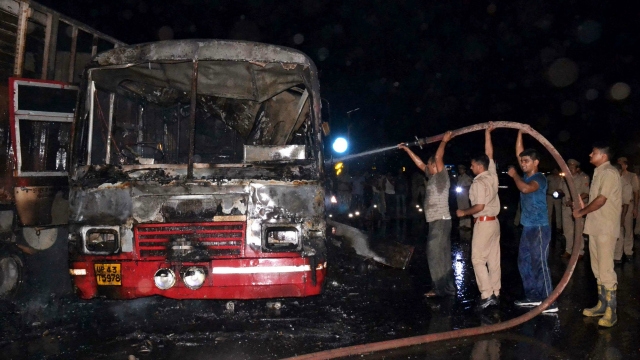 At least 24 passengers were charred to death and 14 suffered burns when a state-run bus burst into flames after crashing into a lorry on the national highway here early today.
The Uttar Pradesh State Road Transport Corporation bus, carrying 41 passengers from Delhi, was on its way to Gonda in eastern Uttar Pradesh when the accident took place near Bada bypass on NH 24, over 250 km from the national capital. The bodies were so badly charred that doctors found it difficult to determine the gender of the victims. DNA tests would be conducted to identify the victims. "The death toll has risen to 24. Besides, 14 others are suffering from serious burn injuries," senior Uttar Pradesh minister Rajesh Agarwal told reporters here.
Initially the number of those injured was placed at 15, but the name of one more passenger was added to the list taking the number to 16, of whom two died during treatment.Three passengers escaped with minor injuries.
Senior Superintendent of Police Jogendra Kumar said, "The accident involving a bus of UPSRTC and a truck occurred between 1.00 AM and 1.30 AM," he said. Kumar said six critically injured passengers have been hospitalised.
According to eyewitnesses, the diesel tank …read more
You may also like...