Yogi era in UP: Yoga session conducted in Raj Bhawan by Baba Ramdev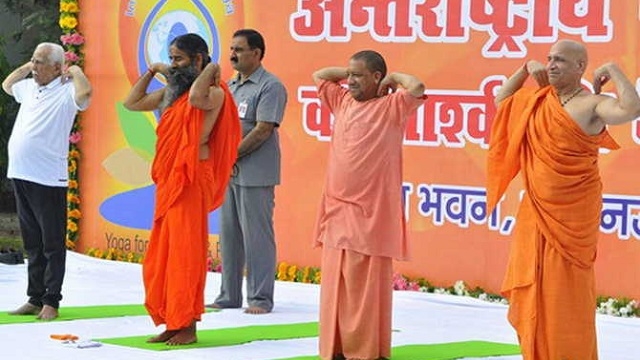 New traditions were set in Uttar Pradesh on Wednesday when the gates of Raj Bhawan were thrown open to Yoga enthusiasts on the invitation of Governor Ram Naik.
For the first time in the history, Yoga classes were held on its sprawling lawns for the Governor, Yogi Cabinet and scores of veteran journalists. It was a warm-up session for the Yogi Cabinet and BJP leaders for the June 21 World Yoga Day event in Lucknow, wherein Prime Minister Narendra Modi would lead over 60,000 yoga enthusiasts.
The practise session began at 6 AM. Except for the Governor and Chief Minister Yogi Adityanath, who practices Yoga daily, most of his Cabinet colleagues could not keep pace with Yoga Guru Baba Ramdev. Many of Yogi's ministers were seen just completing the formalities instead of learning Yoga lessons from the Yoga Guru in preparation to the mega event.
"Our aim is to take forward Prime Minister's efforts in taking Yoga to every nook and corner of the world," said Baba Ramdev after an hour-long session.
He lauded Governor Ram Naik's efforts in opening the doors of Raj Bhawan for all.
"It was a small attempt by the BJP government to inculcate Yoga into daily life and routine of …read more
You may also like...