Missing JNU student case: CBI visits university to probe Najeeb Ahmed's disappearance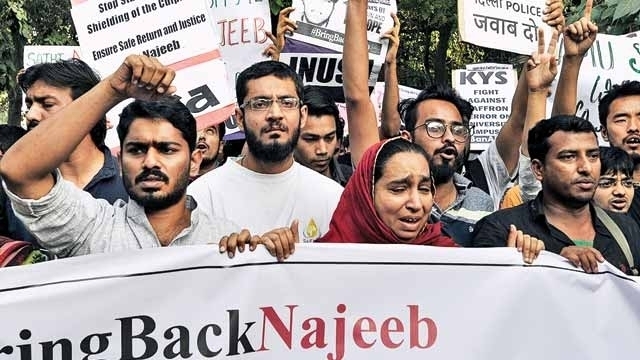 A CBI team visited Jawaharlal Nehru University (JNU) to probe the disappearance of Najeeb Ahmed, a student who had gone missing from his hostel on October 16, 2016.
The team is looking into allegations of a scuffle between Ahmed and ABVP students in JNU's Mahi-Mandvi hostel and the circumstances that may have led to it as well as other events that preceded his disappearance.
It is likely to meet the suspects and people whose names have cropped up in the matter, sources said.
Najeeb's mother Fatima Nafees recently met CBI officers investigating the case. She gave details of the events before her son disappeared from his hostel.
Najeeb had returned to the university on October 13, 2016 after a holiday. On the intervening night of October 15-16, he called his mother to tell her that something was wrong. His roommate later told Fatima he had been injured in a fight, she had said.
Following the conversation, Fatima took a bus from Bulandshahr in Uttar Pradesh to reach Delhi in the afternoon.
After reaching Anand Vihar, she spoke to him over the phone and asked him to meet her at the hotel.
She said in her complaint that there was no trace of Najeeb when she reached his …read more
You may also like...