DPS Srinagar siege ends, 2 terrorists gunned down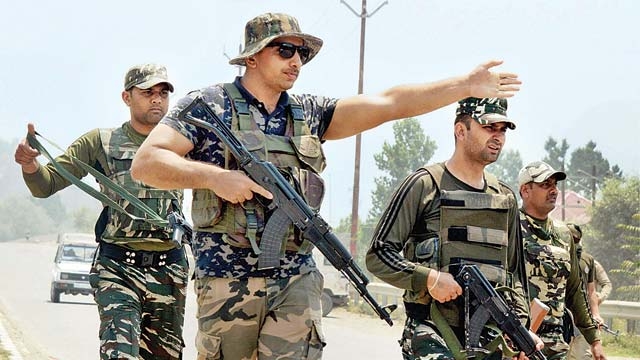 A 24-hour-long encounter in the Delhi Public School (DPS), Srinagar, ended on Sunday evening after the security forces killed both the holed-up terrorists who had taken shelter inside the school premises. The terrrorists had attacked the CRPF's road-opening party at Pantha Chowk on Saturday evening. Two para commandos of the Army, including a Captain, were injured in the encounter.
The encounter started after terrorists belonging to Lashkar-e-Toiba ambushed the CRPF's road-opening party vehicle when they were withdrawing after a day-long duty at Pantha Chowk on Saturday evening. CRPF Sub-Inspector Sahab Shukla was killed while Constable Nisar Ahmad of 29 battalion suffered injuries in the attack.
Security forces immediately swung into action and chased the terrorists who took shelter inside the DPS complex. The area was immediately cordoned off and a massive operation was launched to hunt down the terrorists.
DPS has a huge complex comprising at least 400 rooms.
The security forces exercised a lot of caution during the operation to avoid any collateral damage to the educational institution.
The first contact with the terrorists was established at 3am when security forces were searching the building. The intermittent firing between the two sides continued at regular intervals throughout the day.
Sources said para commandos of the …read more
You may also like...