Move over B'wood, now exorcists will endorse 'Beti Bachao' for Guj govt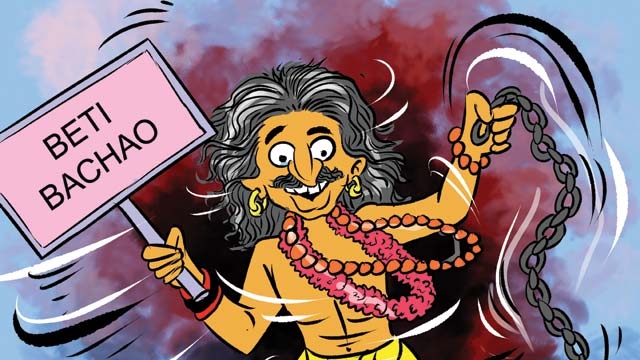 When it comes to coming up with ideas to promote PM Narendra Modi's pet campaigns, the Gujarat government takes the cake. Making an unconventional choice, the state government has decided to rope in exorcists (ojhas) to promote the 'Beti Bachao, Beti Padhao' campaign. Not just that, they will also promote an 'anti-liquor' campaign in state.
The Department of Social Welfare and Empowerment will invite exorcists across Gujarat to take its message to various communities in state. The campaign will soon kick off from Botad, the constituency of Social Welfare Minister Atmaram Parmar and will be taken to other regions as well.
"We are going to have exorcists as our ambassadors for the two campaigns. Female foeticide and alcohol addiction are menaces. I believe exorcists will make the perfect vehicle to take the right message to many communities," Parmar said, adding, "We will organise a massive event in Botad to launch the campaigns and exorcists will be invited."
WHAT'S THE IDEA
Exorcists are widely trusted by many communities. The state government wants to cash in on this and use them as ambassadors to reach its message to the masses.
ReportIndiadna CorrespondentDNAGandhinagar
You may also like...