Heavy rains hamper rescue operations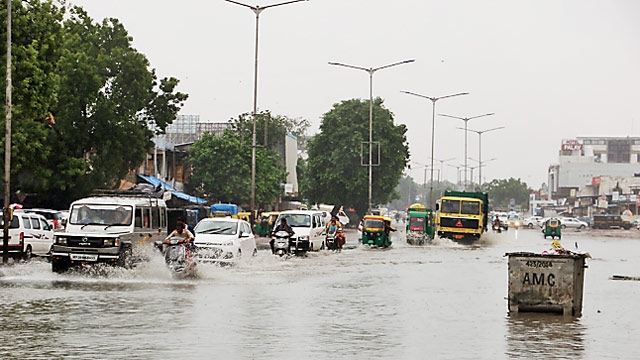 Low clouds, poor visibility and incessant rains hampered rescue operations of the Indian Air Force (IAF) in the flood-affected areas of north Gujarat on Wednesday, official sources said.
Responding to increased requirement for aerial rescue and relief efforts, the IAF had pressed into operation 16 helicopters for winching / airlifting people stranded in the flood waters in Banaskantha and Patan districts, and also for dropping of relief material, including food, water and medicines, to villages inaccessible by road.
The IAF aircrafts are operating from bases established at Deesa, Mehsana, Patan and Ahmedabad with an aim to provide timely relief to people in distress. "The helicopters are being flown braving extremely challenging weather conditions prevailing in the area marked by low clouds, poor visibility and rains. More aircrafts are likely to be flown in from IAF bases in Rajasthan whenever the weather permits," the Defence PRO said in a release.
Army rescues 1,925
Stepping up rescue and relief efforts with two additional columns, Indian Army personnel have rescued 1,925 people from north Gujarat. The Golden Katar division had despatched two additional columns to bolster the ongoing operations, taking the number of Army columns to five. Over 600 people were rescued on Wednesday.
At your service
Eighteen …read more
You may also like...