Did World Athletics Championships organisers rob Usain Bolt of final glory?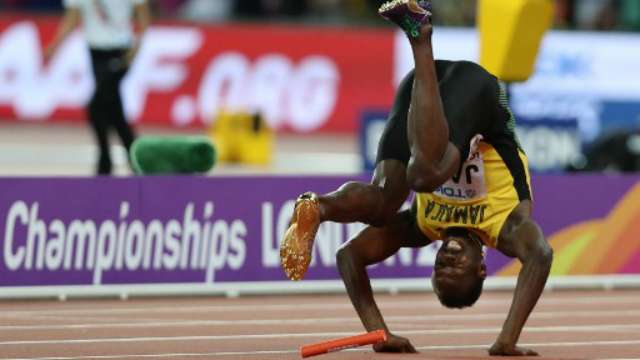 Justin Gatlin agreed with the complaints of the Jamaican relay team that a long wait before their 4x100m final at the World Championships on Saturday contributed to the injury suffered by Usain Bolt in his last race.
Bolt, having been passed the baton by Yohan Blake, was in third behind Great Britain and the United States, who eventually won gold and silver, but pulled up almost 50 metres from the line and fell to the track.
Jamaica's team doctor later said that the 30-year-old had suffered a hamstring cramp. Bolt's team mates complained that a 45-minute wait in the call room before the race had hampered their preparations.
"I think they were holding us too long in the call room," Blake told reporters. "Usain was really cold. In fact Usain said to me 'Yohan, I think this is crazy'. Forty minutes and two medal presentations before our run."
Gatlin, who beat Bolt to gold in the 100m last Saturday, agreed with the complaints and laid the blame at the television scheduling for the event. "I know it's TV magic, and everybody has to be prepared on time to make everything happen for the viewers at home. (But) I personally think that we were held …read more
You may also like...