Abuses or bullets won't help resolve issue, embrace Kashmiris instead: PM Modi in I-Day speech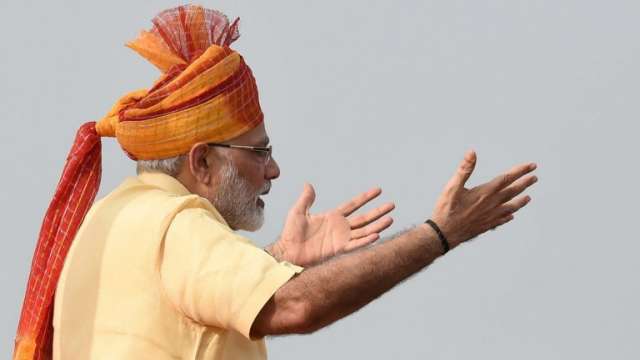 Prime Minister Narendra Modi on Tuesday said bullets or abuses will not resolve the Kashmir issue and that it can be addressed by embracing every Kashmiri.
Addressing the nation on the 71st Independence Day from the ramparts of the historic Red Fort, he asserted that his government is committed to restoring the lost glory of Kashmir and its status as 'heaven on earth'.
"Na gaali se samasya sulajhne wali hai, na goli se, samasya suljhegi har Kashmiri ko gale lagane se (Kashmir problem cannot be resolved by either bullets or by abuses. It can be resolved by embracing all Kashmiris)," Modi said in his fourth Independence Day speech.
He said only a "handful of separatists" were resorting to different tactics to create problems in the state and asserted that there will be no soft approach towards terrorism.
Not only the J&K government but the entire country is with the people of the state in helping them realise their dreams of development, Modi said.
During his hour-long address, the prime minister also declared that that violence in the name of faith was not acceptable and termed casteism and communalism as poison.
Referring to recent incidents of natural calamities in various parts of the country as also death …read more
You may also like...