Maldives army occupies Parliament; Opposition lawmakers roughed up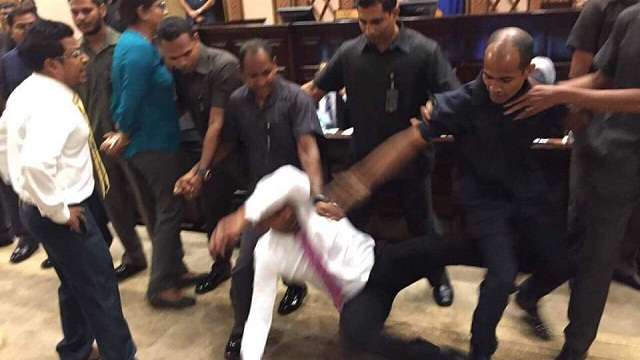 The Maldives military on Tuesday locked down the nation's Parliament and Opposition lawmakers were roughed up by military personnel.
Opposition lawmakers said the military siege was an attempt to block a motion to impeach the Speaker of the House.
"Military in plainclothes blocking MPs entering chamber," said opposition Maldivian Democratic Party (MDP)'s Imthiyaz Fahmy in a tweet.
Military in plainclothes blocking MPs entering chamber.Said MPs cannot enter before 8:55am.Proceedings begin at 9:00,surrounded by military. pic.twitter.com/hJHdxPkdkm

— Imthiyaz Fahmy (@Imthiyazfahmy) August 22, 2017
MPs were eventually allowed in but found that Speaker Abdulla Maseeh Mohamed was also surrounded by soldiers, reported Guardian quoting Eva Abdulla, another MDP lawmaker.
Maldives army appears to have taken control of parliament in Malé22-08-2017 @IPUparliament @IPUPresident @PGAction #saveMaldives pic.twitter.com/j1tp9WrLp8

— Almond (@almond3131) August 22, 2017
Majils idhaaraya chember therya vadhe membarun gaya athlumuge @MNDF_Official othee kon Qaanoon akun kan Noos bayaanamun haama kohdhee pic.twitter.com/IowOGFBXnw

— Mohamed Faisal (@Mohamedfaisalmf) August 22, 2017
ReportWorldDNA Web TeamDNA webdesk
You may also like...