Pluto mountains named after Tenzing Norgay, Edmund Hillary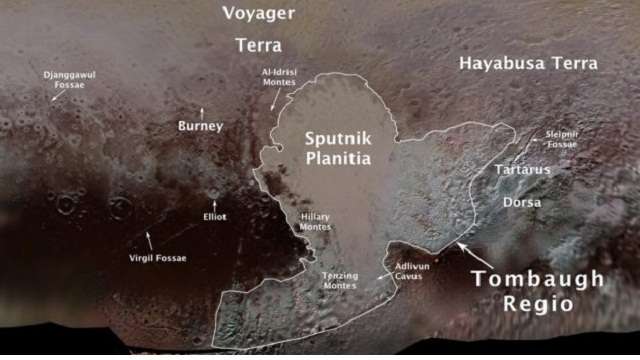 Two mountain ranges on Pluto have been named after Tenzing Norgay and Edmund Hillary respectively by the International Astronomical Union, which for the first time, has officially approved the naming of 14 features on the icy dwarf planet. These are the first geological features on the planet to be named following the close flyby by the New Horizons spacecraft in July 2015.
The names pay homage to the underworld mythology, pioneering space missions, historic pioneers who crossed new horizons in exploration, and scientists and engineers associated with Pluto and the Kuiper Belt. This is the first set of official names of surface features on Pluto to be approved by the Working Group for Planetary System Nomenclature of the International Astronomical Union (IAU), the internationally recognised authority for naming celestial bodies and their surface features.
NASA's New Horizons team proposed the names to the IAU following the first reconnaissance of Pluto and its moons by the New Horizons spacecraft. Tenzing Montes and Hillary Montes are mountain ranges honouring Tenzing Norgay (1914-1986) and Sir Edmund Hillary (1919-2008), the Indian/Nepali Sherpa and New Zealand mountaineer who were the first to reach the summit of Mount Everest and return safely.
Some of the names were suggested by …read more
You may also like...