Rope on a Hope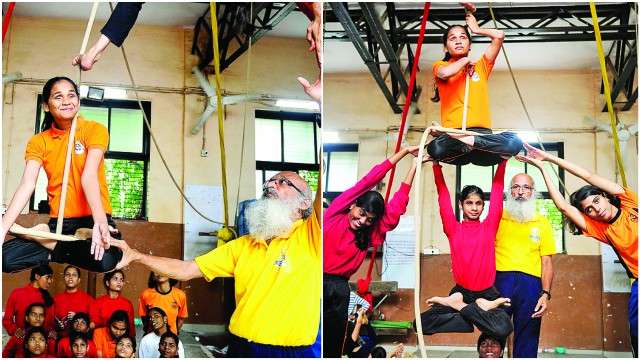 Komal Patil, 18, stands tall and proud next to the rope suspended from the ceiling, eagerly waiting to hear the instructions from her coach. "Climb the rope, do the paschimottanasana, followed by padmansana," instructs Uday Deshpande, one of the foremost authorities in Mallakhamb – an indigenous sport, which is an extension of yoga. As she flawlessly works her magic on the rope, seven other girls – some partially and some fully visually impaired – at Smt Kamla Mehta Dadar School for the Blind, can't wait to start their practice sessions.
64-year-old Deshpande, who started learning mallakhamb at the tender age of 3, brought this ancient sport back to life with great effort. It has been his life's mission to demonstrate and share the benefits of mallakhamb with the world. Apart from teaching at Dadar's Shree Samarth Vyayam Mandir, which he heads, he has been "teaching rope and pole mallakhamb to visually impaired children since 1990 at Victoria Memorial, Happy Home and Smt Kamla Mehta (schools for the blind)".
To teach visually impaired children an anti-gravity sport, requires a 360-degree upside-down approach, making it an enriching learning experience for him too. "When I started teaching them, I asked them to 'jog on the …read more
You may also like...