WATCH: Can't match MSD's speed! Dhoni tricks 'Sam' in adorable video posted by wife Sakshi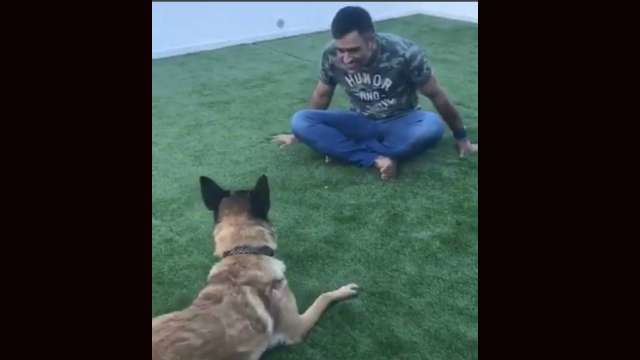 After an intense five-match ODI series between India and Australia, the two teams are all set to lock horns once again in a three-match T20 series, of which the first match will be played on Saturday.
Making the most of the short break in the middle, former India captain Mahendra Singh Dhoni spent some quality time with his beloved dog recently. Dhoni's wife, Sakshi, shared a video on Instagram in which the legendary cricketer could be seen in a playful mood with Sam, his pet.
Here's the video:
Dhoni is known to share a close bond with his dog Sam and this video is further proof of that. In the video, Sam can be seen mirroring Dhoni. When MSD goes right and left, so does Sam before the latter becomes rather restless and Dhoni asks him to come give him a hug.
Dhoni was an integral part of the recently concluded five-match ODI series against Australia. The Men in Blue won the series 4-1.