'Padmavati' Trailer: Deepika Padukone, Shahid Kapoor and Ranveer Singh's mind blowing act will make you impatient for the film's release!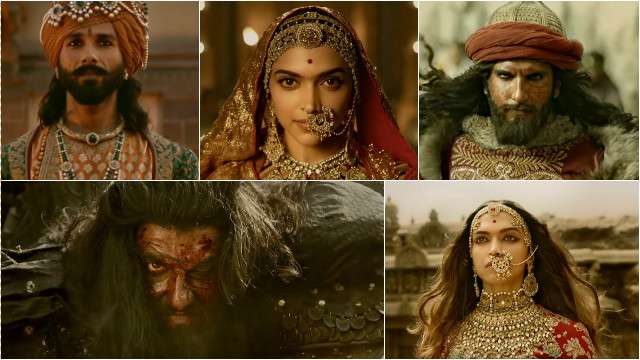 FINALLY! The wait is over. The makers of the most awaited movie of the year, Padmavati have unveiled it's official trailer and need we say that we're blown away by its magnificence? Given the kind of controversies that the film has been embroiled in right from its inception, the expectations from Padmavati have been sky rocketing and the official trailer lives up to every bit of our expectations and adds even more to our anxiety.
The trailer begins with Deepika Padukone, walking in the aisle of the Chittorgarh fort as Raani Padmini in all her royal glory. The next shot introduces us to Shahid Kapoor as Maharawal Ratan Singh maintaing the poise and stature of a true blue Rajput king. We get glimpses of their equation with each other in the following shots.
Padmini can be seen fulfilling her duties as a royal Rajputana queen as well as a devoted wife. In one particular scene, she is shown sewing the headgear of Maharawal Ratan Singh. We abs-o-lutely heart the way it has been shot and the way Shahid looks at Deepika with unblinking eyes.
An then comes the menacing Ranveer Singh as Alauddin Khilji, the ruler of Khilji dynasty who attacked …read more
You may also like...