'House of Cards' writers mulling options to write off Kevin Spacey's character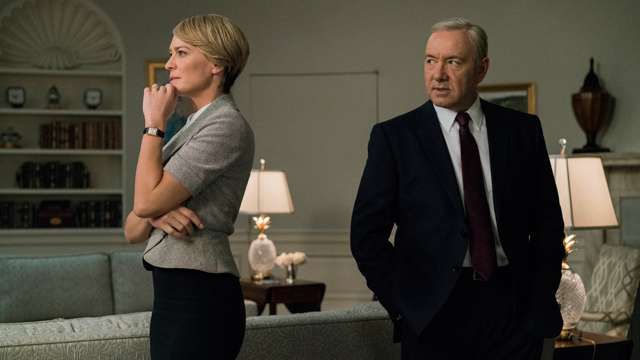 It seems like Frank Underwood might really be out of the White House.
According to The Mirror, House of Cards producers are exploring several options to write off Spacey's character, the villainous Frank Underwood.
That reportedly means the sixth and final season of Netflix's Emmy-winning political drama would focus on Underwood's wife Clair, played by Robin Wright.
According to a report in Variety, the producers of the show feel that putting jobs of 300 cast and crew members in jeopardy is not a right thing since they did nothing wrong and should not be punished for what Spacey did.
The report also suggests that the idea to focus on Robin Wright's character may have caught steam after actress Jessica Chastain tweeted
Can #RobinWright just be the lead of @HouseofCards now? We're ready for it.

— Jessica Chastain (@jes_chastain) November 3, 2017
Reportedly, the producers are consulting lawyers to find the ways in Spacey's contract to move ahead without him.
Season six was almost entirely written before Star Trek actor Anthony Rapp went public with allegations that Spacey made unwanted sexual advances toward him in 1986.
Just few hours ago, in a new statement issued by the streaming giant Netflix, …read more
You may also like...