The rainbow goes Down Under: Australia becomes 26th nation to legalise same-sex marriage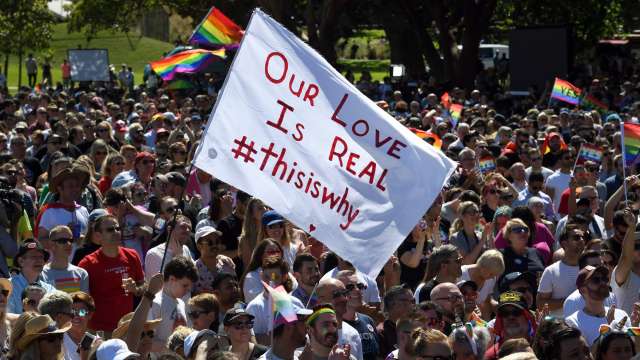 Australians voted overwhelmingly in favour of same-sex marriage in a national survey, paving the way for legislation to make the country the 26th nation to formalise the unions and sparking colourful celebrations on Wednesday.
Thousands of people gathered in a central Sydney park, some wearing wedding dresses and sequined suits, broke into a loud cheer, hugged and cried as Australia's chief statistician revealed live over a big screen that 61.6 percent of voters favoured marriage equality, with 38.4 percent against.
The voluntary poll is non-binding but Prime Minister Malcolm Turnbull immediately said he would fulfil a pledge to put a proposal to parliament to pass laws on marriage equality by the end of the year.
"It is unequivocal, it is overwhelming. They have spoken in their millions and they have voted overwhelmingly yes for marriage equality," he told reporters in Canberra. "They voted yes for fairness, yes for commitment, yes for love."
The result marks a watershed moment for gay rights in Australia, where it was illegal in some states to engage in homosexual activity until 1997.
"It's a g'day. Way to go Australia," tweeted U.S. TV host Ellen DeGeneres, who is married to Australian actress Portia de Rossi in the United States.
Almost 80 percent …read more
You may also like...