Manja clips wings of close to 100 birds in a day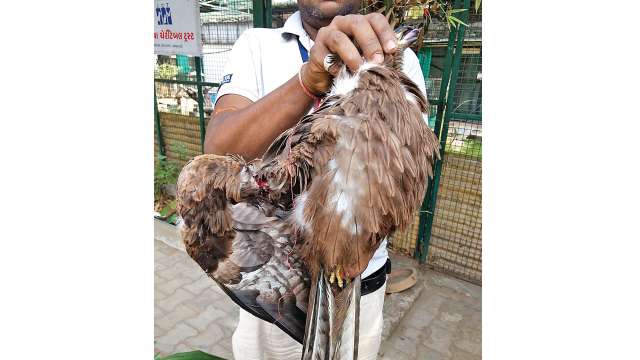 Jivdaya, an organisation that works to rescue injured birds and animals received 98 injured birds on Saturday, a day before Uttarayan. Almost all the birds were injured by manja and among them was an egyptian vulture too.
The forest department's helpline meanwhile got 32 calls for bird rescue. Sherwin Everett, curator with Jivdaya, said the number seems low compared to last year but it would not be right to comment until Uttarayan and an extra day of celebration is over. "That is when we will know how many birds have been injured. If tomorrow the weather is good, we can expect injuries to go up," said Everett. It should be noted that Jivdaya alone has treated around 600 injured birds since the beginning of this year.
The forest department has set up a team of 1000 volunteers and over 30 NGOs that will be helping in the rescue of injured birds.
The department, following an order of the high court, has denied permission for any NGO to operate treatment facilities close to residential premises in the city. Since most of the NGOs operate their businesses close to some or the other residential premises, the HC order has effectively prevented most of them …read more
You may also like...