NBA: Kevin Durant leads Steph Curry-less Golden State Warriors win over Milwaukee Bucks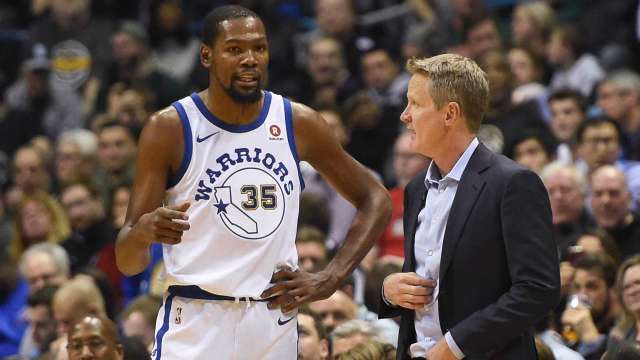 Kevin Durant scored 26 points and Draymond Green contributed 21 points, 10 rebounds and seven assists to lead the visiting Golden State Warriors to a 108-94 victory over the Milwaukee Bucks on Friday.
Klay Thompson added 12 points for Golden State, which recorded its 11th consecutive road victory. The Warriors, who played without point guard Stephen Curry (ankle) for the second straight game, have won six of their past seven games overall.
Giannis Antetokounmpo scored 23 points and Eric Bledsoe added 21 points and four steals for the Bucks. Malcolm Brogdon tallied 17 points for Milwaukee, which scored just 12 points on 5-of-20 shooting in the final quarter and shot 42.9 percent overall.
The Warriors, who shot 55 percent, held Milwaukee to four points over the first eight-plus minutes of the fourth quarter and used an 8-0 burst to take a 94-86 lead on Patrick McCaw's layup with 3:58 to play. Durant scored five in a row a short time later — a 17-footer and a 3-pointer — to increase the margin to nine with 2:19 remaining.
Green's 3-pointer made it 102-92 with 1:46 left as the Warriors closed it out.
"Definitely wasn't easy," Durant said in a postgame interview on ESPN. "They played tough …read more
You may also like...