Twitter account of Indian ambassador to UN Syed Akbaruddin hacked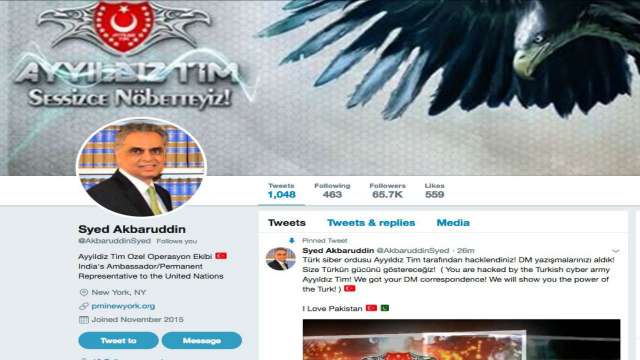 In a clear case of hacking, two photographs of Pakistan's flag and the neighbour country's President Mamnoon Hussain were posted from the Twitter account of India's Permanent Representative to the United Nations Syed Akbaruddin.
The pictures were posted during the early hours of Sunday, and interestingly, the 'blue tick' that marks a verified account also disappeared at the time.
The account was later restored along with the blue tick and the questionable tweets were also removed.
Evidently, cyber attack has not been a new strategy for the terrorists in Pakistan, and government officials have been prime targets.
In 2016, a total of 199 government websites were hacked in India, the Ministry of Home Affairs (MHA) had told the Parliament.
In fact, more than 700 websites under the Indian government have been hacked from 2013 to 2016.
Last year in January, the website of the National Security Guard (NSG), the Indian special forces unit combating terror activities, was also hacked posing unprecedented threat to national security.
The website was, however, blocked immediately by the Computer Emergency Response Team (CERT.IN).
As technology has progressed, so has the strategy of terror attacks, and cyber warfare has taken over the battlefield to breach the national security.
Addressing the press yesterday, Army …read more
You may also like...