What was cooking at Sonia Gandhi dinner? 2019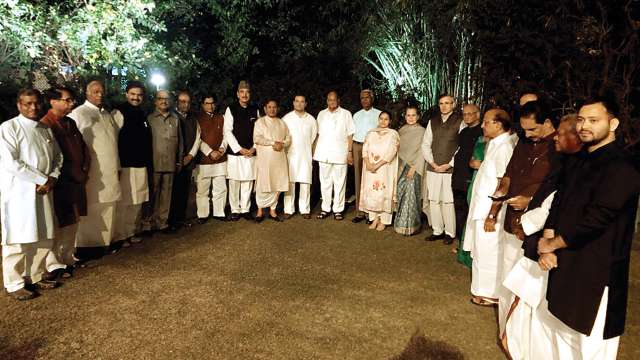 Hoping to build a grand alliance before the 2019 Lok Sabha elections to halt Modi-Shah's poll juggernaut, the much talked about UPA chairperson Sonia Gandhi's dinner attracted leaders from 19 opposition parties.
Feeling revitalised after several by-poll victories and improved performance in local body elections, Congress is trying to build up pressure on the Modi government on issues related to agrarian crisis, unemployment growth and rising cases of scams, yet it is conscious that dislodging the BJP may not fructify without building an alliance on the lines of 2004.
Opposition unity in the Parliament on various issues and protests by NDA partners on the floor of the house had perhaps given Gandhi the confidence to test the waters for forging an alliance.
The BJP, however, dubbed the dinner as of no consequence.
Parliamentary Affairs Minister Ananth Kumar said Gandhi's dinner politics will be only about dinner as the BJP, under Modi, remains a winner with ruling NDA attracting more allies.
Kumar cited BJP's alliance with local parties in northeast states to claim that the NDA is becoming "NDA plus". "The Congress is becoming more and more isolated," he said.
The dinner saw the presence of key opposition leaders such as Sharad Pawar (NCP), Kanimozhi (DMK), Ram …read more
You may also like...