19 new varsities in Gujarat in three years, highest in country: HRD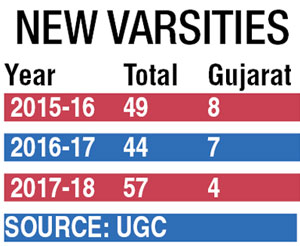 As many as 150 new universities were set up in the country in the last three years, and Gujarat accounted for the highest number of them, official data shows.
Out of 150 universities included in UGC (University Grants Commission) list in 2015-16, 20156-17 and 2017-18, 19 universities came up in Gujarat, which was the highest among all states, minister of state for human resource development Satya Pal Singh said in a written reply to a question in the Rajya Sabha on Thursday.
Eight universities were set up in Gujarat in 2015-16, seven in 2016-17, and four in 2017-18. Majority of these are private universities, according to officials.
The BJP-ruled states of Madhya Pradesh, Uttar Pradesh, and Maharashtra were second, third and fourth in the list with 16, 13 and 12 new universities respectively.
Karnataka, where JDS-Congress is now in power, saw 11 new universities in the last three years, followed by Rajasthan with 10, and Jharkhand & Odisha with eight each.
However, Gujarat was behind a number of other states as far as new colleges are concerned. The information provided in the Parliament shows that 1,575 colleges were included in the UGC list in the last three years, of which 27 were in Gujarat.
Uttar Pradesh …read more
You may also like...