As Aishwarya Rai Bachchan turns 45, doting husband Abhishek whisks her and Aaradhya off for an impromptu vacation in Goa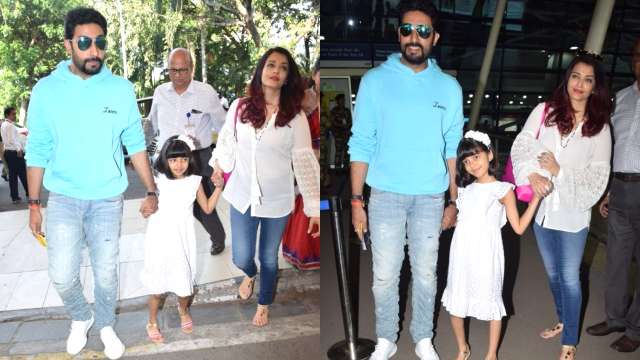 Birthday girl Aishwarya Rai Bachchan was prepared to celebrate a low-key birthday as Abhishek Bachchan was away in Hooghly shooting for Anurag Basu's next. But, you can count on Abhishek to plan a surprise for wifey dearest. The doting husband took a break from his shoot to spend some quality time with his better half on her 45th birthday.
Abhishek, Aishwarya and Aaradhya were spotted at the airport today as he whishked them off to Goa for an impromptu vacation.
Check out their pictures, right here –
Slide Photos:
"Abhishek wanted to be by Aishwarya's side when she rang in her birthday. So, he flew down on Monday night from Anurag Basu's shoot of the Life In A Metro sequel. Abhishek hosted a surprise party at the Bachchans' Juhu address last night. It was a private do with only family and close friends in attendance. Aishwarya even visited the Siddhivinayak Temple last night, after which the trio headed out to Goa early this morning. It is essentially a quick family getaway before Abhishek dives headlong into the shoot of Anurag's film again on November 4," a source …read more
You may also like...