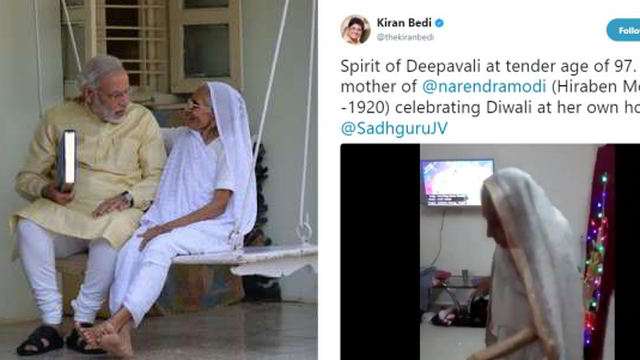 On Friday, Puducherry governor Kiran Bedi tweeted a video of an old lady dancing to a famous Navartri song and mistook her for PM Narendra Modi's mother Hiraben.
People on Twitter were quick to point out that old lady, despite her enthusiasm and vigour, wasn't actually PM Modi's mother. The video turns out to be quite old which shows a woman, draped in a white saree, dancing to Falguni Pathak's popular 'Indhana Vinvaa Gayi Thi More Saiyan'.
Kiran Bedi tweeted: "Spirit of Deepavali at tender age of 97. She's mother of @narendramodi (Hiraben Modi -1920) celebrating Diwali at her own home????@SadhguruJV. Bedi had tweeted tagging both spiritual guru Sadhguru and PM Modi but neither of them replied to her tweet. The video was actually uploaded on October.
Later realising her faux paus, she wrote: "Am informed it's mistaken identity @SadhguruJV. But salute to the mother with so much vigour. I hope i can be like her if/ when I am 96..!"
Spirit of Deepavali at tender age of 97. She's mother of @narendramodi (Hiraben Modi -1920) celebrating Diwali at her own home@SadhguruJV pic.twitter.com/HBXAzNXomC

— Kiran Bedi (@thekiranbedi) October 20, 2017
A living …read more