Until the cows come home
There will be no dearth of cows for the sanctuary to shelter, as hundreds of them roam in surrounding villages.
Away from the hustle and bustle of villages near the Madhya Pradesh-Rajasthan border is a vast barren land, with no tell-tale signs of what would come up in its place — the country's first cow sanctuary. On the way, emaciated cows desperately look for grass, oblivious to the greener pastures they have been promised.
The sanctuary, carved from half-a-dozen villages near Susner town in Agar district, Madhya Pradesh, is anything but green at the moment, a fortnight before its formal opening. From a distance, the newly built sheds resemble a cluster of industrial godowns. A handful of workers is busy giving final coats of whitewash and a lone earthmover is a sign that civil work of the first phase is near completion.
When Madhya Pradesh Chief Minister Shivraj Singh Chouhan inaugurated the Kamdhenu Gau Abhayaranya over two years ago, he had said there were many sanctuaries to protect tigers, but none for cows. With its foundation stone laid by RSS chief Mohan Bhagwat, the Kamdhenu cow sanctuary has lofty ambitions — serving as a site of gau tirth (cow pilgrimage), restoring the status the cow enjoyed in ancient India, letting the bovine move around fearlessly in natural environment, ensuring it dies a peaceful death rather than ending up in a slaughterhouse, and undertaking research for patenting of bio-pesticides made from dung and urine.
The sheds are just modified gaushalas. (Source: Express photo by Milind Ghatwai)
The idea to accommodate in a sanctuary stray, aged and infirm cows abandoned by owners, and those released after 'raids' conducted by the VHP and Bajrang Dal was first mooted in 2008 by either Santosh Joshi or Meghraj Jain — both BJP men claim to have thought of it first. Joshi says he proposed it when he was an RSS pracharak and had taken up the matter with Meghraj Jain, then vice-chairman of Madhya Pradesh Gaupalan and Pashu Samvardhan Board. The latter, though, claims the idea struck him at the end of a month-long bullock-cart yatra he had undertaken in the region seven years ago to promote organic farming and use of desi manures. "I surveyed the vast barren land from the roof of a gaushala and thought this is where cows could move freely."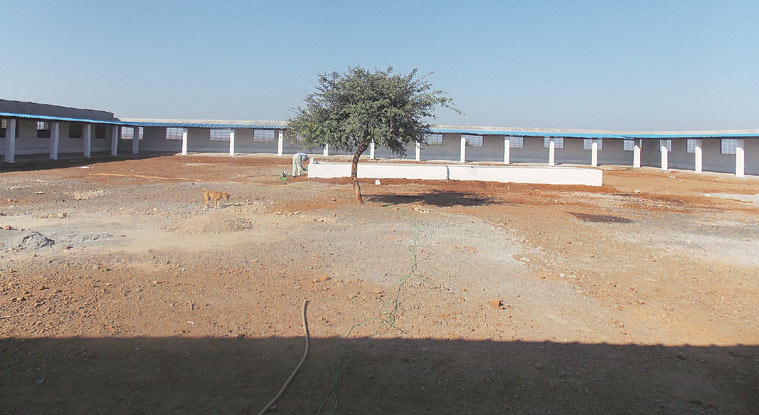 The sheds are just modified gaushalas. (Source: Express photo by Milind Ghatwai)
The pace of execution, though, has remained tardy. Its foundation stone was laid in December 2012 — four years after the concept was put forward — with no deadline fixed for completion of the project. Work on the first phase, which began in January 2013, is expected to be completed in six months. March 21 has been fixed for inauguration to coincide with Gudi Padwa.
Both claimants of the idea, however, deny any responsibility for the delay. "I don't understand why they are delaying it. They have only built sheds so far. They should let the cows in first," says Joshi. Jain, on the other hand, attributes the initial delay to government officers' "bewilderment" over a huge chunk of land being given to a sanctuary and whether it will bring any revenue. "I told them the land is anyway barren and the land ownership will remain with the government."
Spread over more than 1,100 acres, the sanctuary has a 900-metre-deep cattle protection trench dug around its 12 km-long periphery. The trench will ensure cows don't cross the boundary and wild animals don't enter. Locals say there are no tigers or panthers in the area but hyenas are occasionally spotted.
There will be no dearth of cows for the sanctuary to shelter, as hundreds of them roam in surrounding villages. The first batch will come from a gaushala located 200 meters away. Opened in 2001 from money donated by villagers and politicians, the gaushala was renovated with a Rs 2 lakh grant given by then Shajapur MP and now Union Minister for Social Justice Thawar Chand Gehlot in 2005-2006. The gaushala's caretaker Prabhulal Mehar is glad his 500 cows will find a new home in the sanctuary. "The gaushala will not be pulled down and will accommodate spillover cows," he says.
The Rs 32-crore project will have 10 units (each comprising four sheds) to accommodate 5,000 cows over the next five years. So far, one unit is ready. Each of its four sheds has a water tank in the middle; its roofed portions have provisions for fodder. The dung and urine will be washed and collected in one place to generate electricity.
While the PWD is building the sheds and the forest department is tasked with plantation along the periphery, the overall supervision is under the state Cow Protection Board and the Animal Husbandry Department. "The remaining four phases will be completed over five years," says PWD Executive Engineer Pramod Shrivastava.
Near the sheds, housing quarters are being built for a staff of 17, including a deputy director (animal husbandry department). An assistant veterinary surgeon has been appointed.
research unit spread over 5,000 sq feet will be set up to work on developing bio pesticides "which will eventually be patented" and along with a centre to train farmers on the site.
Grasslands are being developed over 200 hectares of land and another 200 hectares will be earmarked for water bodies to create permanent water sources for the cows. A team from Indian Grassland and Fodder Research Institute (IGFRI) will provide crucial inputs in forage production.
The sanctuary will have demo sheds to accommodate 30 indigenous breeds that survive today. Experts say there used to be 60 breeds but half of them are extinct. Chouhan's announcement that all indigenous breeds will be allowed in the sanctuary will create a problem for the staff because veterinary experts say only the Malwi breed will be encouraged to avoid cross breeding. It is not clear how the segregation will be enforced and who will do it.
MP's anti-cow slaughter law, enacted in 2010, provides for a maximum punishment of seven years for killing a cow. In the five years since the legislation was passed, 12,192 people have been arrested under it, of whom 1,500 have been convicted.
Right-wing activists often raid trucks on highways and call the police to arrest those involved in illegal transport of cattle. But once the culprits — who don't have valid permits or those booked for cruelty or under the anti-cow slaughter act — are caught, the animals are mostly left to fend for themselves. The police and the district administration request nearby gaushalas to accommodate them but are clueless when the request is turned down.
The Opposition has accused the BJP of politicising bovine sacredness. When Arif Aqueel, the only Muslim legislator in the state, had sought the burial or cremation of dead cows at the government's expense and a ban on the trade of cow skin and bones, BJP MLAs said "no holy books talk of cremation or burial" and defeated his resolution.
Source:: Indian Express