Dimapur lynching: Did Nagaland govt mishandle the situation?
Police arresting activists of Asomiya Yuva Mancha (AYM) who were staging a protest in front of Nagaland House in Guwahati. (Source: PTI)
The lynching of Syed Sharif Khan, who was accused of rape, by a mob after storming a jail in Dimapur has exposed the faultlines – both ethnic and religious – in Nagaland. Thirty-five-year-old Khan was kicked and pelted with stones and dragged for seven kilometres. He died of injuries while being dragged to the City Clock Tower.
ALSO READ: Hundreds of girls in school, college uniforms led lynch mob, says Dimapur SP
The incident has put the spotlight on the T R Zeliang-led Nagaland government's handling of the situation. Here we list three instances:
Activists of the All Assam Goods Carrier Truck Drivers and Handiman Union staging a demonstration in front of Nagaland House. (Source: PTI)
1. Intelligence failure: Initial reports say Section 144 was imposed in Dimapur a day before the incident as the Naga Students' Federation (NSF) and some other local groups had called a rally to protest against the alleged rape. On Thursday, a mob broke open the gates of the jail by overpowering the security personnel on duty. Khan was stripped, tied up and dragged to City Clock Tower area – being kicked and pelted with stones along the way. This was the beginning of a series of failures of the state government. Didn't the local intelligence unit flagged this massive assembly of people?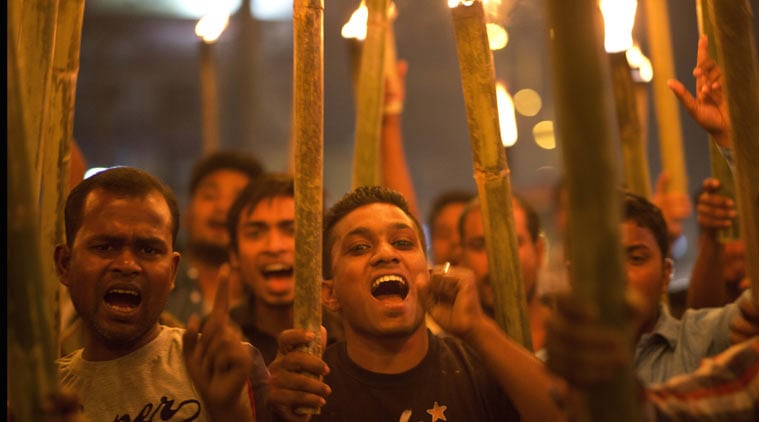 Activists shout slogans during a torch protest against the lynching of a man accused of rape. (Source: AP)
2. Failure to control the mob: The mob numbering in thousands marched towards the Dimapur Central jail. The jail security was outnumbered and the frenzied mob drag Khan out. Despite a simmering tension after the alleged rape incident was circulated widely on social media platforms, the government did little to tackle the situation. Dimapur SP Meren Jamir had said it was difficult to act as there were school girls in the mob. "How could I use maximum force when there were hundreds of girls in school and college uniforms in the front of a massive mob? It was difficult. There would have been several casualties," he had said. Jamir's statement cuts no ice. The police's responsibility is to protect the citizens, even if one is facing a court case.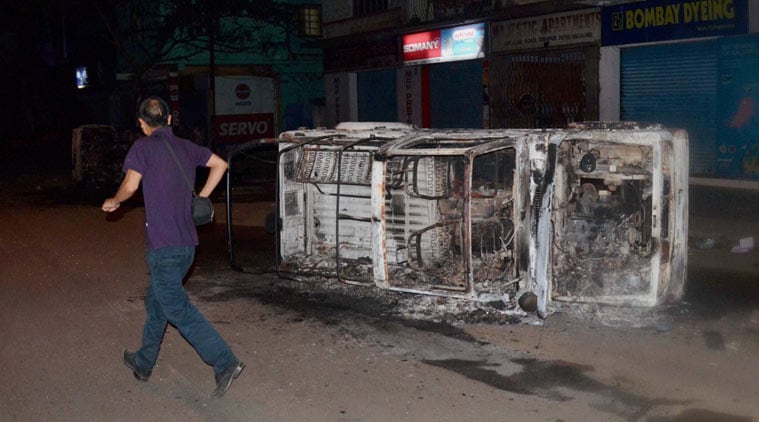 A man walks passed a torched vehicle. Peace returns slowly as riots subside. (Source: PTI)
3. Bangladeshi immigrant remark: Soon after the incident, state DGP LL Doungel wasted no time in suspecting the rape accused as a Bangladeshi immigrant. It gave credence to rumours about Khan's nationality.
Source:: Indian Express