V for Vigilantes
Most of these vigilante cadres are not registered members of any outfit but float between groups.
The beating up of a 20-year-old Muslim because he featured in a photograph that had another Muslim youth lying across the laps of their Hindu girl classmates was the fourth such moral policing incident reported in Mangalore this year.
According to data collated by Suresh B Bhat, president of the Mangalore unit of the Karnataka Communal Harmony Forum, Mangalore saw 45 moral policing incidents in 2013 — 23 by right-wing Hindu groups and 16 by Muslim activists. Last year, 39 moral policing incidents were reported in Dakshina Kannada district, 25 involving the Hindu-fringe brigade.
Most of these vigilante cadres are not registered members of any outfit but float between groups. The same arrested cadres have claimed to be from the Bajrang Dal, Sri Rama Sene or, variously, Hindu Jagaran Vedike. In the case of Muslim groups, the names shift between the Peoples' Front of India and Campus Front.
Mangalore DCP Vishnuvardhan says such individuals form a "substantial human network", linked by social media.

It was in January 2009 that vigilantism of this kind in Mangalore first hit national news. A group of largely unemployed youths, assembled by the Sri Rama Sene, had dragged young girls out of a pub by their hair, and thrashed their male companions. While over 27 were arrested, charges have not been framed since and all have been released.
More than three years later, a similar rag-tag group, this time associated with the Hindu Jagaran Vedike, had stormed a home stay at Padil, in rural Mangalore, and molested young girls and a boy celebrating a birthday. Here too charges are still to be framed and all 34 accused are out on bail.
Advocate Dinesh Hegde Ulepady represented former Kasturi channel reporter Naveen Soorinje, who had recorded the home stay attack and was charged with being an accomplice. "Special courts must be set up to handle such matters and disposed of within a specific time. By the time charges are framed, most of the victims are married or have left the place and are not interested in pursuing the case," Ulepady says.
A senior police officer who has worked in the Mangalore region says that at the first level of this moral policing hierarchy is a network of 'spotters', looking out for inter-religious couples. They go by loose cultural markers — men sporting a beard or, conversely, a tilak or kada (bracelet). In case of women, the "giveaway" is the dress — sari, salwar or burqa.
A message is circulated within the vigilante group the instant a couple seen as inter-religious is spotted. A flash group of 15-25 assembles quickly and arrives at the spot shouting slogans. "In most cases, the vigilantes herd the couple to the nearest police station and attempt to lodge a complaint, saying the boy and girl were acting immorally in a public place," the former cop says.
Bhat wonders at the coincidence that even in places which are routinely patrolled, there is no police presence at the time of such incidents. Another coincidence, at least since the 2009 pub attack, is the presence of media.
"Else, how do you explain that in the pub attack and the home stay incident, the happenings were recorded on a professional camera?" the former cop adds.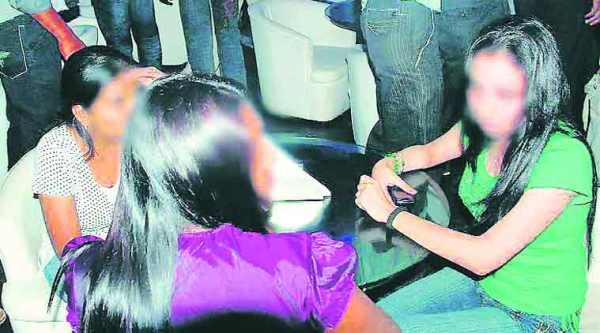 File photos of the pub attack victims.
The Hindu right-wing taps into the resources of the nearly 40,000 RSS shakhas in the region. "The 'informants' can be anybody — salesmen, security guards, auto-drivers, private bus conductors, waiters, peons, even lecturers or teachers," says a former top Mangalore police officer.
Riyaz, who was attacked by the Hindu Jagaran Vedike after he featured in the photograph of the boy lying across girl classmates' laps, spent three days in hospital. The group — five Hindu girls, two Hindu boys and two Muslim boys — had submitted a project and were waiting to give their viva voce in their classroom at Govinda Das College on February 18 when the photograph was taken.
Four days later, Riyaz's friends Vineeth and Rithesh had come to his home and driven him to an isolated area, where he was assaulted by nine people. Vineeth and Rithesh have told the police that after the photograph fell into the hands of the Vedike, the latter had threatened them to bring Riyaz to them.
Just days before, on Valentine's Day, an unidentified group had attacked two 16-year-old boys for speaking to their classmate, a girl, at a bus stop. The parents of the victim had refused to lodge a police complaint.
A Hindu-majority town with a substantial Muslim population, Mangalore has a high literacy rate of 88.5 per cent and several educational institutions run by Catholic groups. The BJP has been consistently winning from here for decades, except 2013 when the Congress swept the region.
Police and activists note that such incidents show a spike near any major religious or political event. The Riyaz incident, for example, happened just before the VHP's Hindu Samajotsava in the city. "It ensured participation of more cadre at the event," a police official says.
Though the Hindu fringe groups lead in setting the moral agenda, radical Muslim groups like the PFI too are involved. In December 2014, the Barke police in Mangalore had taken suo motu notice of two Facebook posts by a 'Muslim Defence Force of Mangalore', threatening Muslim women found talking to men from other religions. A case was registered under Section 66 (A) of the IT Act.
The same month, a Hindu youth found talking to a Muslim woman from his village at the Belthangady town bus stop had been set upon by a group of seven youths, reportedly belonging to the PFI. They were arrested by the police later.
Before that, several Muslim youths had assaulted the owner of a photography studio and vandalised his shop after a Muslim girl was seen visiting, though he tried telling the crowd that she was engaged in video-mixing work. Three people were arrested.
"For every Hindu radical group, there is a Muslim counterpart," says Muneer Katipalla of the Democratic Youth Federation of India.
In most instances, vigilantes do not wait for explanations to serve their brand of justice. Last December, a Muslim resident of Kalladka in Dakshina Kannada had asked her husband to pick up a Hindu friend who was visiting them, from the bus stop. "They were getting off a bike when 12 people surrounded them. They entered our home, assaulted the two and took them to the local police station," the woman says. To pacify the mob, police had let them go only after a "warning".
In July last year, some 50-odd people from a right-wing Hindu outfit had surrounded a Muslim boy and a girl at a bus stop in Ujire. The couple were engaged and the girl had produced a college ID card showing she was a Muslim as well. But the couple were thrashed and the girl allegedly sexually harassed. Police had booked five people, adding they had no direct affiliation to any group. The matter is under investigation.
Before the Govinda Das College incident, in September 2014, 20-odd members of the Bajrang Dal had attacked six Muslim students of the Mangalore Institute of Fire and Safety Engineering, accusing them of clicking pictures of Hindu girls at a college event. Efforts to explain that one of the students had been asked by a teacher to record the event had not helped. The police later arrested 15 youths linked to the Bajrang Dal.
Riyaz's father Mohammed Rahim, a truck driver, asks how his son was at fault. "It is clear he was not even looking at the camera when the picture was taken. We just want him to obtain a computer applications degree and get a good job to take care of the family."
Riyaz is the third of five brothers. The family lives on the earnings of Rahim and of Riyaz's elder brothers, who work as a driver and at a cellphone recharge shop. Rahim had to borrow money to meet some of Riyaz's medical expenses.
Source:: Indian Express