Express Adda: We have to understand that children cannot be vote banks, says Smriti Irani
The Indian Express Deputy Editor Seema Chishti with Union HRD Minister Smriti Irani in Delhi.
At the Express Adda held in Delhi, Union HRD Minister Smriti Irani in conversation with The Indian Express Deputy Editor Seema Chishti, spoke on framing a new educational policy, keeping institutions autonomous and on her personal journey
At the Express Adda presented by Yes Bank in association with Olive and IIFL in New Delhi last week, Union HRD minister Smriti Irani spoke extensively on her journey from television to the world of politics. She outlined her priorities, addressed the controversies around her and charges of alienating academics, and responded to a question on the Gujarat government's decision to adopt history books written by right-wing ideologist Dinanath Batra. Irani also underlined the importance of bringing all stakeholders in education together.
On framing a new education policy
This government was voted on (the promise of) good governance. One of the first things that the Prime Minister highlighted was transparency and one of his pet issues is to have policies that have a people-connect, rather than a discourse where a selected few decide the destiny of the country. You need to continuously engage with citizens. When I first took the responsibility in the ministry, I saw that the school education department and the higher education department were working separately. I made both departments sit together and asked for such artificial barriers to be struck down so that people have a comprehensive look at education.
Anna Carin Mansson, Country HR Manager, IKEA
So, when I looked at the education commission and all policy decisions that were taken before I came to office, I realised that a few academic experts, bureaucrats and politicians would sit together and tell the nation what it should study. For a nation that is so complex and has such a diverse culture, to have a one-size-fits-all programme is not correct. We have devised 32 themes for education — school and higher education — and have put it up on the government's website so that every Indian citizen can have a voice on the kind of education they want for their children and family.
I also met every education secretary and minister in the country, invited them for workshops wherein we said that our education policy would be decided in 2.75 lakh village education councils and each council's view on its educational needs will be mapped. Then we plan to invite all stakeholders, including parents and academic experts. They will get a voice. We will do similar stakeholder meetings at district, state and regional levels and will have thematic representations from academia and people with administrative experience who will give us their views and we will compile these to frame a new policy.
On creating a consensus
In the past 10 months, I have managed to create political consensus in education. Anybody who takes charge of this particular ministry needs to understand that children cannot be vote banks and ultimately if we are to serve the interests of children and parents who work so hard to educate their children, we need to work together. I have not encountered friction or resistancefrom any state.
I think my responsibility as a minister is to provide a platform to everyone so that they can have a voice. That voice might not agree with mine but in a democracy everyone has the right (to their opinion).
On her tough image
Irrespective of the horror stories, I am good with people who disagree with me. Just a little anecdote: an officer who was coming to meet me was absolutely petrified. Obviously, he had read and heard a lot of rumours about me. He said he was new and I asked him, 'Have you heard horror stories about me?'. He didn't say anything. I said, 'Don't worry they are all true!' I think a narrative has been created but I just focus on the job. I think my image as a neta who terrorises has worked in a good way. Because ultimately what counts is not the political inclination you have, what matters is delivering on the promise of good governance.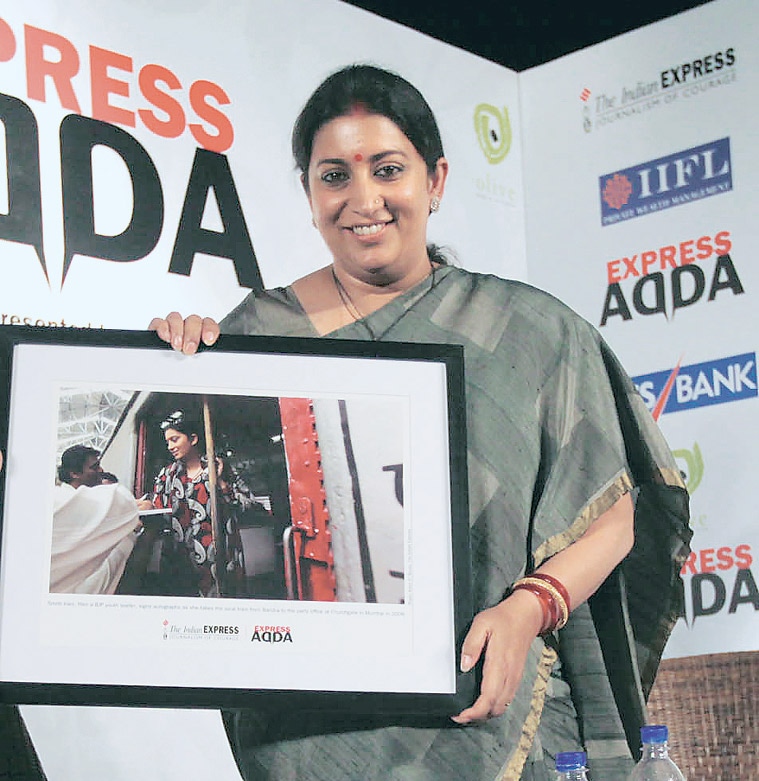 Smriti Irani with a memento presented by The Indian Express. The photograph from 2009 shows Irani signing autographs as she travels in a local train from Bandra to the BJP office at Churchgate, Mumbai
Individuals and institutions
When I became a minister, I knew there would be an added focus on me because of my background as an actor, and a BJP spokesperson. I told my office clearly that if there is any question pertaining to the ministry, we will answer that, but we will not answer anything pertaining to a minister or an individual. I think an institution needs to be separate from an individual. Earlier there were many bills pertaining to the HRD Ministry pending in Parliament. There was a feeling that the (working of the) institution was getting hampered due to personality clashes and I didn't want to continue that legacy. I have always held that if you are a teacher, ensure that you come to work, give your lecture; if you are a lab assistant, facilitate students to study. I have always said that the biggest stakeholders in my ministry are not the people who own the universities, but the students who go to them.
On Dinanath Batra's Take on history
Nobody reads Dinanath Batra's books in my home. My children read books prescribed by the Delhi Government because they study in a Delhi school. My child reads a newspaper, which says Osama bin Laden was an extremist. He goes to class and reads in his textbook that Lokmanya Tilak was an extremist too. He would obviously ask how one extremist is different from another extremist. Children these days have access not just to books but to the internet and they can go and get some information and compare the two and say, 'well maybe what my book is saying might not be right.' Parents and teachers need to tell them what is right and wrong. One needs to understand that there are many challenges in education, which can be answered only if we have a comprehensive educational policy.
One needs to understand that every state government has the constitutional right to formulate educational and academic structures. Are you going to deny a state the right because you don't believe in that particular ideology and are you expecting a cabinet minister to cross her jurisdiction and react?
My responsibility is not to take academic decisions, that is the job of the states and universities. That is why all the universities in our country have been made autonomous institutions — to make sure that the individual is separated from the institution. As per law, NCERT has the autonomy to decide and work on the curriculum. I cannot dictate to NCERT how to write a book. I don't bring my personal opinions into my ministry. I don't say an institution can be autonomous as long as it pleases me.
Once a central university student union called a meeting and said if Smriti Irani comes to this university, we will take her eyes out. Did I go and ask the VC of that university why the students were threatening me? I didn't because freedom of speech is freedom of speech. If they have the right to say they will take my eyes out, someone has the right to say this is my version of history.
On the cheating case in Bihar
I think one needs to understand that why is it that a certificate becomes so important that one will break all boundaries for it. It is easy to comment on a picture in a newspaper and say, 'Oh it's bad'. But if you look into the depth of the problem, why is it that parents who are supposed to give children values and teach them the difference between good and bad are helping them do something bad? Because they know that the rest of the child's future will depend on one paper. While you have to make corrective changes to teach a child right from wrong, you also need to institutionally give people the impetus to say, your destiny cannot be written by one certificate.
In November last year, we made a skill-based credit framework in which you can become a carpenter after Class VIII — the PM spoke about it in the first session of Parliament. He said if people want to come back into the education system, why can't we help them? We have identified 80 sector skill councils within HRD in which skill component would count for 60 per cent if that person wants to get back to education. We have given mobility up to post-graduation level.
On her journey
In my childhood, I was an introvert who spent most of her time with books and imagining the world to be like the books I read. My parents would caution me that the world is not as good or dramatic as it's made out to be in books.
I was one of the first girls in my family to have a profession. My parents, especially my father, thought that everybody gets out of school and gets engaged and then married. And I said, 'Well, I have lived my entire life as your daughter and I will live the rest of my life being someone's wife. I need to find that space where I can live my life.' Now that I am a parent and I look back, it was very scary for my parents to let me go. I think they have been pretty brave. I wanted to make it in a city where 'main kiski beti hoon ya beta hoon' didn't land you a job. Media was the only field where my parents had absolutely no connections and I came to Mumbai to get into a profession where I could carve out a niche.
I absolutely had no dreams of being a filmstar. In one of the job hunts before I left Delhi — apart from selling cosmetics on Janpath — I also dropped an application to one of India's biggest news organisation, which also runs a production house and a TV channel. It was rejected.
I am glad I got so many rejections in life. Someone once asked me in exasperation: 'What makes you succeed?' My answer was that every time you knock me down, I will stand up and say let me give it one more shot. I exasperate people and even now they tend to hit
out at me.
Comparing acting and politics
I wanted to deliver to the best of my capacity. I never wanted to pursue a glamorous career in acting as such. I wanted to be the best actor and if that meant graduating to a role that needed me to portray a certain age-level, then I was alright with it because my personality was never linked with a bindi or a saree or the length of a mangalsutra. For me, what linked with my audience was the emotions that I portrayed. As an actor if you are confident about that connect with the audience it doesn't matter whether you play saas or bahu.
But you cannot compare acting with politics. You become an actor by choice, (but) you get to be a cabinet minister after you are carefully selected. I became an actor, graduated from bahu to saas out of choice, but from a political karyakarta (worker) to a spokesperson to an MP and to a minister was not out of choice. It was because I fulfilled certain projects, implemented them well and had a lot of work experience in the field. Every step of my way I was measured for my work.
Transcribed by Pavan Burugula and Abhishek Angad, EXIMS students
Question hour…
In the contemporary framework, are you planning to integrate artists and craftsmen who don't have formal degrees?
This is a part of the new educational policy discussions. One of the biggest challenge that artists face is the number of people who appreciate and understand local crafts is decreasing. We have signed up for Kala Utsav this year as well. I am also proposing a framework wherein people from all professions come to schools and talk about their work so that our children know what career options they have.
Rajeev Sethi,
Founder Director, The Asian Heritage Foundation
What is your opinion about the global ranking system for universities?
Everyone is free to aspire to international standards. However, apart from the global standards that we seek to aspire to, we also need some kind of measuring tool for ourselves because we know our democracy and its needs better. We are devising a national ranking system in conjunction with all our vice chancellors of central universities, and IIT and IIM directors, among others.
Deepak Pental,
Former Vice Chancellor, Delhi University
What are the innovations you introduced when you contested from Amethi in the general elections?
Many times we have seen that the prejudice that comes with being a woman who is working is that she needs to be hand-held. That is not something I have seen with the volunteers whom I have worked with. These were the people who made a big difference — ordinary people fighting an extraordinary battle. We had no money, we had 1,200 booths to cover. We physically went to 900 or 950 of them.
Mallika Ahluwalia,
Programme Officer, Gates Foundation
Are there any plans to improve special needs education in India? Also, how do you plan to train teachers for special needs children?
Last year, we gave special focus to the teaching methodology for special needs children. We did it for over 27 lakh teachers. We have a National Mission for Teachers and Training (NMTT) where we have made it mandatory for every teacher to learn how to educate children with special needs. We have also changed the NCTA regulation, which regulates how teachers are trained in the country.
Prashant Solomon,
Managing Director, CHINTELS
Source:: Indian Express