The Big Picture: The amazing coincidence of Saina Nehwal and Sania Mirza
India's two World No. 1s, getting there one after the other in quick succession — securing another knot in their entwined stories.
What were the chances two Indian girls growing up in the same city, playing similarly demanding sports, fighting similar odds, would one day emerge as the best in their games?

One is known to pull her hair back tighter than the strings of her racquet, ordering them into regimented submission. For the other, who loves her long tresses, it's a swiftly bunched-together bun with a wide, typically white headband worn like a disciplinary diadem as she takes to the court.
Could the amazing coincidence of Saina Nehwal and Sania Mirza — two girls joined by their name, the city they share, the physically daunting sports they play and the fierce determination they display, starting from that hair — have gone any other way?
So here they are, India's two World No. 1s, getting there one after the other in quick succession — securing another knot in their entwined stories.
Yes, they are very different, Saina, 24, and Sania, 28. Yet, the stories of the girls separated by the placement of a vowel couldn't be more alike.
"Now Indian girls know they can be No. 1 too," Saina says. "I'm not different from them, god-fearing, a normal girl next door, but with a badminton backpack".
Or even the stories of their parents. The Nehwals and Mirzas, each with two daughters and no son, who braved odds more than the usual: Sania blazing along in the face of religious orthodoxy and jingoistic trolls, and Saina raised in a Haryanvi hinterland that hankers after a male child.
Not everyone revers the Grand Slams and only a tiny fraction of the population can tell badminton's Super Series from a Grand Prix. Charleston, Indian Wells, Miami, Jakarta, Fuzhou, Odense are specks on the atlas, not registering as venues where Saina and Sania have stamped class on their sport.
But everyone understands World No. 1.
* * *
Were Dr Harvir Nehwal and Imran Mirza to get chatting over chai that they both enjoy, they'd find those common links — of a rundown Bajaj Chetak and dented Maruti criss-crossing Hyderabad's business district of Abid's and the rest of the country, and of chaperoning their small girls who lugged big kitbags.
If Imran built Sania a court behind the house and got coaches there, mother Nasima would convince an ice-cream parlour to sponsor an inter-school meet where Sania, from Nasr School, was participating. A crowd of 300 would watch her stunned opponents, generating legends about how she beat older girls and matched strokes with the big boys.
Children also thronged the Christmas holiday meet held at Deccan Club because everyone was given Coca-Cola at the end, later replaced by the green Jolly Jelly candy. Sania began picking trophies at the school games here.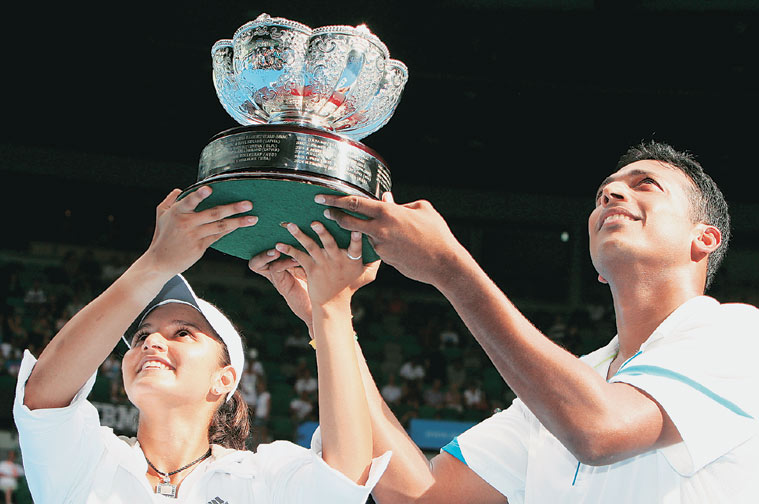 "It's not speaking good English, or wearing certain kind of clothes, or working in offices. Real empowerment comes from believing you belong," Sania says.
Soon, the pre-teen had started travelling to Delhi to play. She had long hair then, wore salwar-kameez and, as friends remember, was very reserved, cheering up though when offered Hajmola candy.
Back home, her father planned the way forward.
You could get into the junior international circuit at age 13 (most Indians did). What just about no one did was start thinking of the seniors — which you could enlist for on turning 14. Sania was never in the Top 50 of juniors internationally, and never really lingered among the greenhorns, travelling instead to Pakistan and Egypt, collecting ranking points, building a base for her leap.
Imran and Nasima, huge followers of tennis, knew where they wanted to see their daughter. In the Grand Slams. Competing with women, not the girls.
* * *
Saina grew up being called 'Steffi' by her parents. Harvir and Usharani Nehwal both played badminton and adored how tennis star Steffi Graf looked with a racquet in hand.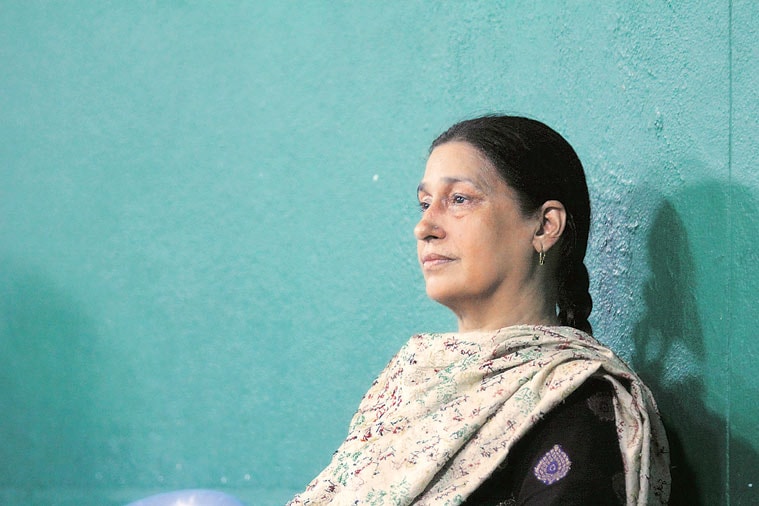 Usharani is an imposing figure at Saina's training sessions. During a match or even practice, she keeps a close watch on her daughter and is not shy with criticism.
Badminton though didn't figure in Saina's life for a long time. Not travelling beyond 50 km radius of Hisar till age 8, sporting a short crop, she'd play cricket with the boys, without ever talking to anyone. The highlight of her life at the Campus School of Chaudhary Charan Singh-Haryana Agricultural University was winning frog-races every year.
In 1998, Harvir, an agricultural scientist, found himself posted to Hyderabad. Realising that Saina was struggling to mix with other children because she didn't know English or Telugu, Harvir enrolled the 9-year-old in judo-karate, for Rs 100 a month.
Usharani says she was never really bothered by how quiet Saina was till one day she developed a boil under her arm and bore the pain silently, not saying anything to anyone. Saina was five then. Usharani realised then both her daughter's resolve and determination.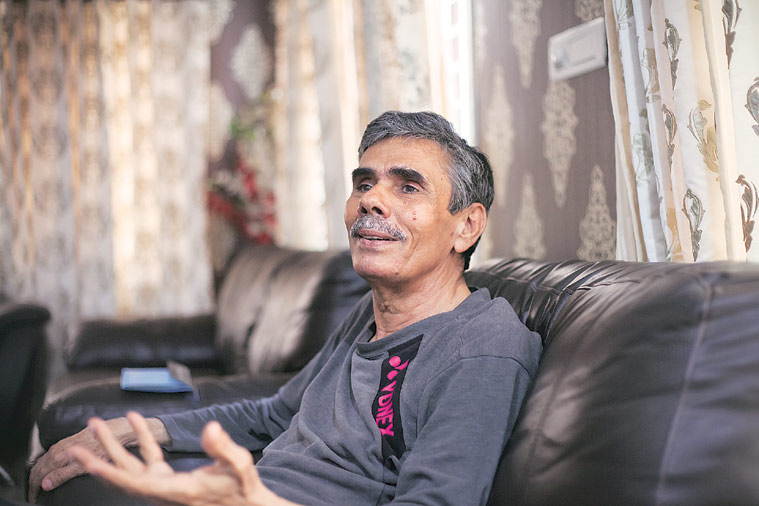 On rare weekends Saina is home, Harvir gets her jalebi and panipuri. "She'll nibble on it, and not even look at it the next day," the father marvels at her restraint.
Badminton was picked at a summer camp in Hyderabad — Harvir driving her up and down on the family scooter. As Saina got better and better, Harvir would clock 10,000 km over 3 years.
The times she accompanied Sania, Usharani remembers, she came back with goosebumps. As the coach explained the nitty-gritties of the half-racquet slice, the mother recalled how she played it well too but could never make it far because her family wouldn't let her.
The Nehwals never celebrated Saina's birthdays in a grand way, and parties and eating out were next to zero. But, Usharani says, she pledged early on — and ensured Harvir did too — that they would not come in the way should their daughter seek the ultimate stage: the world.
* * *
Sania and Saina are both daddy's girls, doted on and occasionally indulged by the fathers. But as the young girls spend lives on the roads, it is the mums who have been their rocks, from Day 1 to Number 1.
Usharani is an imposing figure at Saina's training sessions. During a match, she will find herself a corner and watch the game with a severe expression. In practice, she will make do with a plastic chair, drag it into Saina's line of vision and sit there looking intently. If Saina misses a stroke, even if narrowly and even in practice, she can expect a few words of disapproval.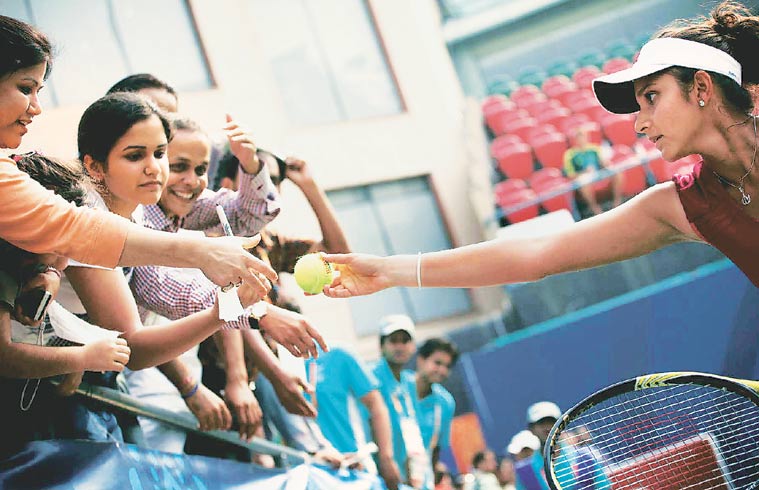 The fast and furious forehand is gushed about; she hits it harder than some men in the circuit, they say. Not tinkering with it was the smartest thing her parents did.
Right now the two are in a spartan two-room accommodation at Prakash Padukone's Academy in Bangalore. Saina shifted here from home town Hyderabad last year, having decided she needed to rethink her training if she wanted to start beating the Chinese and getting medals at the Worlds. Usharani packed a small suitcase, and followed the daughter.
"I knew she wouldn't win at the Worlds. Olympic ki khwahish hai toh Olympic-level ki tayyari honi chahiye (If you dream of the Olympics, your preparation should be of the level of the Olympics)," Usharani says, brutally frank. "She wanted to know why she wasn't winning, she would cry. I think of it differently. Medals and titles will come… But the only time she'll be disappointed is when she knows she has not trained hard enough."
It's been 10 days since Saina climbed to top of the rankings and then dropped down to No. 2. She has since regained her spot.
"There is something bigger than No. 1," adds Usharani. "I don't want her to get distracted from daily rigorous training."
Saina's been on the court for three hours now. She is aiming to master that half-racquet slice this afternoon, her target a small column inch of the court. The first sparring-mate asks the coach for a breather. The second cannot mask his incredulity. "She's just picking every shuttle today!" he shakes his head at Usharani.
Academy coach Utsav then steps in. Usharani hastens out of her seat and starts collecting the shuttles and handing them over, so that Utsav and Saina can continue without a break in their rhythm.
"Saina always looks to cross her threshold. It's after she's tired, gone past her limit and can still hit the same strokes with same accuracy that she is content with the practice," Utsav says, in between water sips, even as the star pupil fiddles with her racquet, restless to continue.
Coach Vimal Kumar trained in Europe for a long time, and each summer hiked up to Wimbledon for a tournament. Opposite Wimbledon is the steep Edge Hill hillock. Here he'd watch agape as squash legend Jahangir Khan practised running up and down the slope. "We tried but couldn't manage more than once. You have to be a little eccentric to enjoy that gruelling process. I see that in Saina," he says.
Kumar gives another example, of that other sportsman known for his determination: tennis's Ivan Lendl training with Tony Roche.
"As coach, personally, you sometimes feel bad for her. But you see her inner drive and feel like helping. I've been a coach for 22-23 years but never seen anyone like her," he says.
* * *
It's a couple of days later. Nasima Mirza has just walked up to the general stand of tennis courts at Hyderabad's L B Stadium where Sania is due to play her doubles tie against the Philippines in the finals of the Fed Cup.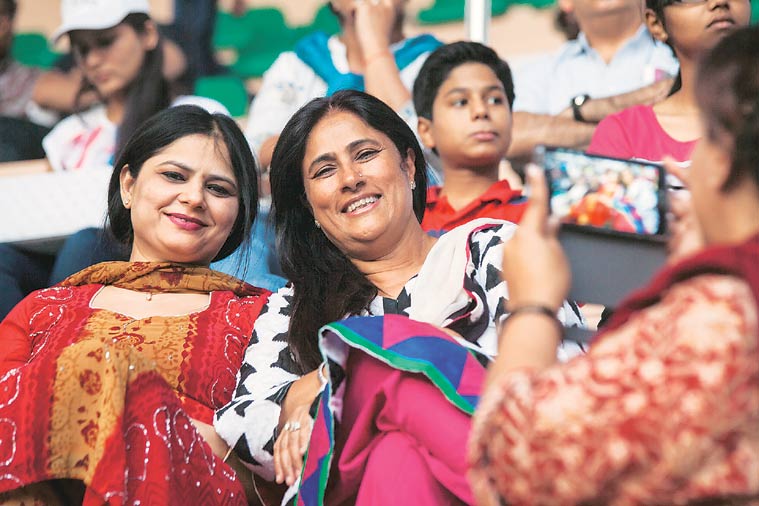 As Sania went 0-3 down and struggled to find her bearings at a recent match, mother Nasima sat unflustered, knowing the Sania storm was round the corner.
Having arrived with the extended family, Nasima dusts her seat and gets busy guiding the group and buying popcorn for them, before settling down to watch the tennis. She sports an identical frown as Sania when the singles players from India and the Philippines start moonballing (lobbing the ball high up and bringing the pace of the rallies to a crawl as a result).
0-3 down, with her daughter still finding her bearings on the relaid surface and its slow bounce, Nasima sits calmly, knowing the Sania storm is round the corner. The No. 1 ranking and return of the Sania Mania have ensured the stadium is close to packed, and even as they all go quiet as Saina sprays wide, the mother is unflustered.
Partnering with Prarthana Thombare, Sania takes the next nine games and wins the match.
This was the venue where it all started nine years ago, with Sania winning her first WTA singles title as around 5,000 watched. "God's been writing my script," she smiles later.
"When scores get very close, matches get tighter, Sania starts going for the lines. Ordinarily players want to play safe then. She is gutsy," says Prarthana, summing up her partner. "Even if she is losing, the kind of strokes she plays, she ends up looking like she's playing better than her opponent. Eighty per cent times you win with these risks, 20 per cent you don't."
The 22-year-old adds that having Sania around does wonders for players like her. "She's passing on her confidence to us… to back yourself completely and have self-belief. Isn't that being the World No. 1?" Prarthana says.
The fast and furious forehand is gushed about internationally now, about how she hits it harder than some of the men in the circuit. It looks fluid and effortless, but everything from the lethal timing and how she strikes it, is unconventional. Almost un-Indian.
D C R Kiran prides himself for being one of the first Sania forehand-groupies on Hyderabad's courts. "She was playing the 6′ 3" Akgul Amanmuradova right after the courts here were built. We were about 100 people, all members of the tennis club, what people call 'knowledgable spectators'. But nothing prepared us for what Sania was dishing out to someone almost half a foot bigger than her. She had killer short cross-court forehands. Hit at acute angle, dipping, and powerful. Imagine a six-footer Uzbek being backed off the court by our Indian girl," he grins.
It was as arrogant and risky a stroke as any ever in tennis. "We tried to ensure that Sania from an early age fought like a tigress, enjoyed competing and relished pressure situations," Imran says.
Coaches around Hyderabad wryly admit how not tinkering with that weapon was the smartest thing Imran and Nasima did.
Md Riyaz Ahmed mans the machine that has been stringing racquets at the Hyderabad Stadium for 40 years. Sania's Babolat frames, the 58-year-old says, are to be strung at the exact same tension — 59 pounds. "The very best, straight from France, for the girl," he beams.
Expensive?
"Free, maa, free. She's World No. 1. They'll be proud she uses their strings," Ahmed asserts. "My son and son-in-law are both into stringing. But if I have a granddaughter, I'll make her a tennis player like Sania. Which Indian family wouldn't want that dream for their girl?"
* * *
But what about the other girls in both the Nehwal and Mirza households? While the emotional investment in their legendary siblings could have left Saina's elder sister Abu Chandranshu and Anam, who is younger to Sania, feeling ignored, both crossed that bridge long back.
Having earlier dabbled in styling her elder sister, Anam has found her calling in media studies. If Imran admits the "sacrifices" made by Nasima and Anam, he adds, "I've to admit we have enjoyed every bit of the struggle."
Sania is known to often talk about her sister while handling her junior India teammates. "They're very young, my sister's age. We should let them learn," she says if anyone messes up.
Usharani admits that life must have been difficult for Abu as one of the parents was perennially absent, travelling with Saina. "Because she was the elder one, we always presumed she'd take care of herself," the mother adds.
Married and settled in Punjab now, Abu was among the first to call up her mother and sister in Bangalore when Saina regained her No. 1 spot. Only to Harvir, in Hyderabad, did she reveal that she was wheezing because she was suffering from an allergic reaction to the ongoing harvest season.
"She never demanded our attention and perhaps that's why Saina is even more close to her. Even our spending was all geared towards Saina, and so Saina now likes to splurge on Abu," Harvir says.
* * *
Three luxury cars, one gifted post her Super Series success, stand outside Saina's house in Hyderabad, a villa on a posh hillock.
"I retired with earnings of not more than Rs 70 lakh. If not for Saina's sport, do you think I'd have ever lived in this house?" father Harvir smiles, as he tries to silence the Shih Tzu pup 'Chopsi' with "Haaik, haaik", somewhat akin to shepherding buffaloes in Haryana. "I'm the caretaker of the house — right now that's my job," he quips.
The top floor, including a home theatre and Saina's room, is locked these days and every time she is away training or on tour.
On one rare weekend she was home, Harvir drove into the city to get her jalebi and panipuri. "She'll nibble on it, and not even look at it the next day," Harvir marvels at her restraint.
Chopsi is another of Saina's passions — and one she is again deprived of. So she Facetimes with the pup daily.
Laughing, Harvir adds that Saina's greatest happiness after she became No. 1 was that Brian Lara, the West Indian great, congratulated her.
Aparna Popat, the former badminton player who had witnessed in disbelief the muted celebration of P Gopichand's All England title in 2001 in Andhra Pradesh, says the thought warms her heart.
"We can safely say that Saina and Sania are now in the same space as cricketers in popularity. The All England was during the World Cup and the cricket team wasn't doing too badly either. But still so many people came up to me and talked about Saina at Birmingham. 'Why did she lose?' they would ask, and I would wonder, when did so many people start staying up late to watch badminton and start rooting for an Indian shuttler," Popat says.
* * *
Saina's thrilled to be the first Indian woman at No. 1, but knows she is certainly not the last.
"I wasn't very conscious of ranking 1 because it was always the prerogative of the Chinese. It took me five years to go from No. 2 to No. 1. Now Indian girls know they can do it too. I'm not very different from them, god-fearing, a normal girl from the neighbourhood, but with a badminton backpack," she says.
Sania, the highest-ranked woman doubles player currently, feels you need to be in love with the game first and then ready to do whatever it takes to play at the highest level. "The first question will always be — are you prepared to work hard for it?"
Having defied among other things career-threatening injuries, she adds, "For me, a woman with self-belief is an empowered woman. You don't even always need education. It's not necessarily speaking good English, or wearing certain kind of clothes, or working in offices. That might be a part of empowerment and image building but real empowerment comes from believing you belong."
Meanwhile, there are more milestones to go, the globe to be trotted and titles to be won. Then, one day, Saina and Sania can sit down, look back and take stock of what they have achieved here — apart and together.
Source:: Indian Express