Failing farmers put all eggs in cane basket
A sugarcane farmer transporting his crop to a mandi in Muzaffarnagar in Uttar Pradesh. (express Photo by: Gajendra Yadav)
Jitender Singh Hooda hasn't been paid for the cane he has supplied after January 11 to the sugar mill at Shamli in Uttar Pradesh's Muzaffarnagar district. Besides, even for the cane for which payments have been made in the ongoing 2014-15 season (October-September), he has received a price of only Rs 240 per quintal.
This is below the state advised price of Rs 280 fixed by the UP government in the preceding two sugar seasons.
But despite that, Hooda, who farms 40 bighas (around 8 acres) in Kheri Bairagi village of Shamli tehsil, has expanded his area under sugarcane from 20 to 30 bighas this year. He gives two reasons for it. The first has to do with sugarcane being a sturdy crop that can withstand "ola (hail), pala (frost), aag (fire), paani (water), nilgai (Asian antelope) or jangli suar (wild board)." There is little risk to sugarcane from "prakritik aapda (natural calamity)" — an important consideration in the light of the recent unseasonal rains and hailstorms that caused widespread damage to the standing rabi crop in large parts of northern, western and central India.
The second reason is the lack of alternative cropping options. "Last year, I planted Pusa-1509 basmati in 10 bighas enthused by Rs 3,500-3,600 per quintal prices in 2013-14. But I ended up getting just Rs 2,000/quintal.
With sugarcane, there is no such uncertainty and I will get my payment at some point," avers Hooda. This irony of farmers not deserting sugarcane — even as outstanding payment arrears of mills for this season have crossed Rs 20,000 crore — is equally pronounced in Maharashtra.
"Farmers have limited choice. In western Maharashtra, they can grow soyabean, whose prices have crashed, or banana, which has a limited market. And we know how unseasonal rains have destroyed their grape and pomegranate crops, while actually benefitting sugarcane. Similarly, in Marathwada, the only alternative is kapas (cotton), where again prices are ruling very low," notes farmer leader and Lok Sabha MP from Hatkanangle, Raju Shetti.
What this combination of relative hardiness and reasonable marketing certainty, notwithstanding delayed payments, has done is undermine the long-established "sugar cycle" phenomenon.
Sugar production in India is prone to cyclical oscillations. Typically, three years of high output (2005-06, 2006-07 and 2007-08, for instance) are followed by two bad production years (as in 2008-09 and 2009-10). This is mainly because of high production leading to gluts and cane arrears build-up, and, in turn, inducing farmers to grow other crops. And since not planting cane this year also affects the "ratoon" crop automatically sprouting from its root stubbles the following year, the impact of lower production is felt for at least two years.
But the recent period has turned this hitherto taken-for-granted phenomenon topsy-turvy. The current season will mark a fifth consecutive year of India's sugar production being in excess of the estimated domestic consumption of 240 lakh tonnes.
"Going by the plantings so far, we don't see 2015-16 to be any different; at most, production may fall marginally. There doesn't seem to be a sugar cycle any longer," points out Abinash Verma, director-general, Indian Sugar Mills Association.
The real question is how long can this state of affairs be sustained? For millers and farmers alike, the main worry is sugar prices.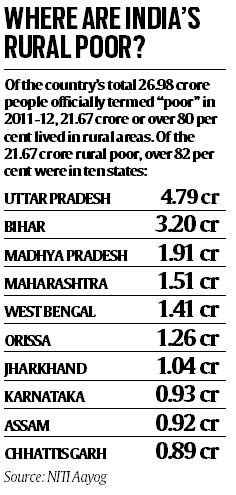 Ex-factory realisations are now around Rs 25/kg in UP and Rs 22/kg in Maharashtra, against their corresponding year-ago levels of Rs 30 and Rs 29, respectively. Domestic glut apart, world prices have also played a part here: Raw sugar futures for July in New York are trading at 13.22 cents per pound, compared to 17.56 cents a year ago and the peak of 36.08 cents touched in February 2011.
"In 2013-14, I paid a cane price of Rs 2,551 per tonne exclusive of harvesting and transport charges, more than the Centre's fair and remunerative price (FRP) of Rs 2,378. For the current season, I have just been able to pay my FRP of Rs 2,512 per tonne," says Madhavrao Ghatge, chairman of the Kolhapur-based Shri Gurudatt Sugars that claims to have recorded India's highest sugar recovery of 13.34 per cent this year.
Many mills in Maharashtra haven't paid even the FRP. Cane price arrears in the state for 2014-15, as on end-March, stood at Rs 2,864.50 crore. It was even more, at Rs 9,715.60 crore, for UP. Other states with significant cane dues include Karnataka (Rs 2.402.39 crore), Punjab (Rs 682.29 crore), Tamil Nadu (Rs 656.80 crore) and Bihar (Rs 598.11 crore). But for the moment, not being paid hasn't really deterred farmers from planting for the new season. For them, the alternatives are probably worse.
In UP, cane plantings happen during March to May. In Maharashtra it is already over: the 18-month "adsali" cane is planted from mid-June to end-August, which is followed by the main "pre-seasonal" crop (mid-September to end-October) and the relatively small "suru" cane (January-March).
"Cane area is almost the same, except in Marathwada where there has been a drop because of drought conditions," according to MG Joshi, managing director, National Federation of Cooperative Sugar Factories.
Source:: Indian Express