Three feared drowned in Narmada cananl near Dhandhuka in Ahmedabad
Dhandhuka police said the incident took place near Kothara village, some five kilometres east of Dhandhuka town when the trio went for a bath in the Vallabhipur Branch Canal of Narmada project at around 11 am. (Source: Express photo)
Three persons were feared drowned in Narmada canal passing by Dhandhuka town in Ahmedabad district after they jumped in it for a swim on Friday morning.
Dhandhuka police said the incident took place near Kothara village, some five kilometres east of Dhandhuka town when the trio went for a bath in the Vallabhipur Branch Canal of Narmada project at around 11 am.
"A man, his eight-year-old son, and his 40-year-old brother-in-law jumped in the canal for a swim. However, they were washed away in the current of water. We have fished out body the man who is around 30-year-old. Efforts are on to trace the child and the other man," Dhandhuka police sub-inspector (PSI) Raju Karmatiya said.
People gather on the bank of the canal where three people were feared drowned. (Source: Express photo)
The PSI further said that jawans of fire-brigade were scouring the canal for locating the boy and the other missing man.
"We are in the process of ascertaining identities of these persons. Primarily, we have learned that the trio were from Sarkhej area of Ahmedabad city," Karmatiya, who was present at the spot of the incident, further said.
Vallabhipur Branch Canal separates from Saurashtra Branch Canal of Narmada near Dhanki village in Surendranagar district. The Vallabhipur Canal takes Narmada water up to Navda village in Barwala in Botad district and usually remains filled with water.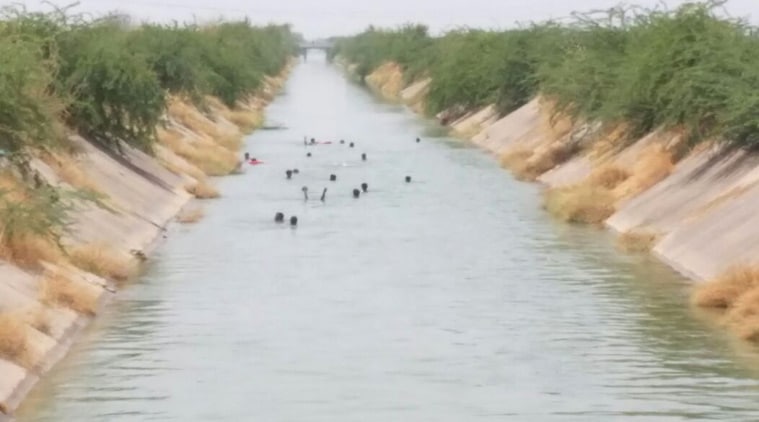 Rescuers scan waters of Vallabhipur Branch Canal of Narmada near Dhandhuka to find out the missing boy and the man. (Source: Express)
Meanwhile, the man whose body has been fished out was identified as Dilawarkha Pathan. Police said Pathan's son Rusankhan and his brother-in-law were missing till 6:30 pm.
"Jawans of fire-brigade of Ahmedabad and Dhandhuka town are searching for the child and the man in a five-kilometre stretch of the canal. However, we have not been able to locate the two persons," PSI Karmatiya further said.
Police said Pathan, his family members and relatives from Ahmedabad had come to Bhadiyad, some 80 kilometres away form Ahmedabad city, to take part in the annual urs of Pir Mehmoodh Shah Bukhari. After taking part in the urs, they went to cool off in the Narmada canal, leading to the tragedy.
Source:: Indian Express