Big Picture: This way to the epicentre
Curiously for an epicentre, Lamjung valley remained largely untouched. (Source: Express photo by Vishal Srivastav)
Hamza Khan takes the road from Kathmandu, among the worst-hit in the April 25 Nepal quake, to Lamjung, the place where it began. Along the 80-km route, he finds a population grieving its losses and trying to move away as far and as fast as possible
The road out of Kathmandu begins in Kalimati. At 10 in the morning, as bus after bus pulls into the busy thoroughfare, there is a mad rush — some jostle to get on, a few scramble on to roof-tops and others check for routes and destinations. Amid the exhaust smoke, honking and flaring tempers, people line up on a footpath, waiting for the buses to take them out — out of the city where they lived and worked to build their dreams, till it all came crashing down in a heap of concrete and dust a week ago.
Since Monday, April 27, hundreds of buses have been arriving in Kathmandu, where 1,034 people have been killed so far in the earthquake, making it the second worst-hit district in the country after Sindhupalchok. While thousands of people across Kathmandu continue to live on the roads or in their cars, the city's migrants — from far-flung, mountainous regions of Nepal and many from across the border in India — are now lining up at bus stations, hoping to get on to any vehicle that will take them home.
Many of the people The Sunday Express spoke to at Kalimati said they were "okay" and that they had suffered no personal loss, but were leaving because they were scared, because "others are leaving".
With his clothes and other belongings stuffed into a few bags, Vishnu Prasad Poudel, 39, waits for a bus to take him to Pokhara, 20 km away. He stands with his two children, aged 7 and 2, while his wife cradles their third child, a two-month-old. "I am fine, my family is fine and my house is fine, too," says Poudel. "But my family in Pokhara has been worried about us. They have been calling us," he says. With three children and the bags, it has been a struggle getting on to buses and they have already missed a few.
A family living in the open in Lamjung's Udipur village, that has for three generations sent people to serve in Indian Army. (Source: Express photo by Vishal Srivastav)
"All the Indians I knew have left. We've been here since 8 am but haven't been able to find a bus in three hours," says Mohammad Rafiq, 50, a mason from Bihar, flanked by his sons, Ali and Abdul, each of them holding a bag. "I don't think I'll ever come back," says Rafiq, who is waiting for a bus to take him to Gorakhpur in Uttar Pradesh. "We have been surviving on chiwra-daalmoth," grumbles his son, Ali.
Balram, 40, and his wife say they will soon be back in the city, but don't want their children here. "We are going to Dhangadhi, over 600 km from here, and dropping our kids there with our relatives," says the English lecturer at Kathmandu's End Mark College. "The college reopens on Tuesday, 12 days after the earthquake, so I'll have to return before that," he says. Balram is with his wife, their two children, his sister and niece.
At 11 am, the sun is finally out after the previous day's rainfall and hailstorm and the foggy Chandagiri mountain slowly comes into view. Several buses of the UP State Road Transport Corporation are here to move the Indians out the city — free of cost. "Fourteen buses started together from Gorakhpur at 9 pm on Tuesday and it has taken us 14 hours to get here," says Gopal Raj, the driver of one such bus.
The drive out of Kalimati is a crawl up to Thankot, a little over a km away. The crowd of people, buses, pickup trucks and taxis thins somewhat beyond Thankot. The road is now lined with deserted buildings and a few collapsed ones.
As vehicles wait to pass a police check-post at the Kathmandu border, Umesh, 21, does some brisk business of selling water bottles. "On a normal day, I would have sold 50 water bottles, but today I've sold 50 in four hours," he says.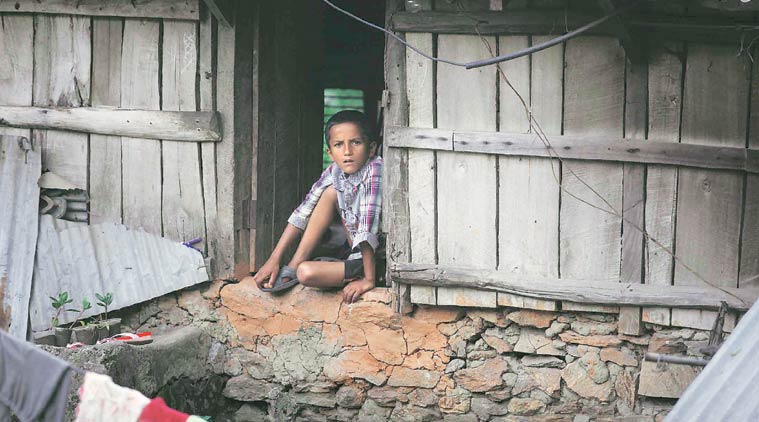 Most of the concrete houses in Lamjung withstood the April 25 earthquake but the mud ones fell. (Source: Express photo by Vishal Srivastav)
Traffic is smooth on the opposite lane, the one leading to Kathmandu. A few empty buses and trucks carrying aid hurtle down the road. Just outside Kathmandu, in Khanikhola, in Nepal's Dhadhing district, Uddav, 35, says they've seen hundreds of relief trucks pass by since Sunday but none has stopped in their town. "We're homeless and without food… The town secretary is as helpless as we are," he says.
Mungling is a three-hour drive from Kathmandu. Here, a road forks into two — north-west to Pokhara and south-west to Bharatpur. At one of the many dhabas at this junction, drivers Umesh Kumar, Shiv Charan, Satnam and Gurdip sit around a table eating their lunch while their passengers in four buses parked on the road outside, most of them labourers in Kathmandu, look on, with no money in their pockets. But Naresh, 40, isn't complaining. "Nepal buses have been charging exorbitant fares — Rs 1,500 to go till Bhairahawa (on the border with India). At least these UP buses are taking us for free," says the native of Dholpur, Rajasthan.
Most of the buses, taxis, and other vehicles coming from Kathmandu take the southwest road to Bharatpur. We head north-west, onto the road that heads to Pokhara. The traffic thins down as does the road that's walled in by the mountains on the left.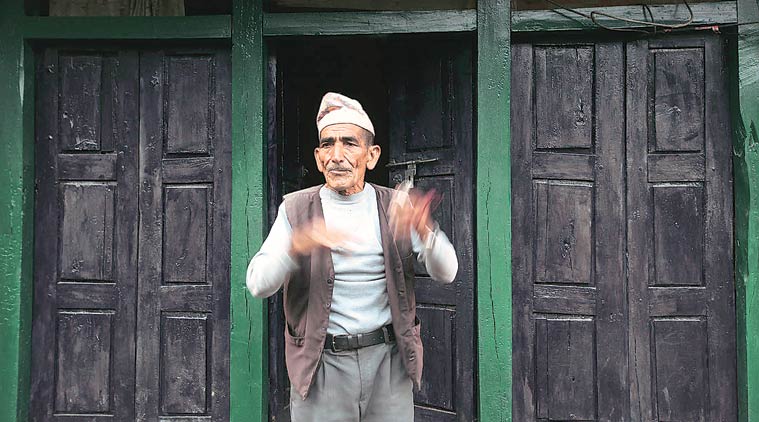 Chim Bahadur Gurung, an ex-Indian Army soldier, says he has been promised help. "The police came on Wednesday and took some photographs of my house that was damaged. They said they would do something," he says. (Source: Express photo by Vishal Srivastav)
The chaos and destruction of Kathmandu have now been left far behind. Somewhere on the way to Pokhara, another road heads north to Lamjung, the epicentre that's about 80 km from the capital.
Curiously for an epicentre, Lamjung hasn't seen much destruction — four people died here and 25 were injured. So while the ripples of that quake travelled as far as Tibet in the north and the Gangetic plains in the south, Lamjung held on.
Besisahar, Lamjung's district headquarters, is on either side of a kilometre-long road. Buildings here have no visible cracks and life goes on unperturbed. "Most of the concrete buildings survived the quake, only the mud ones fell," says Maya Koju, who owns a shop. Official figures say 2,094 houses in the district were damaged.
Six km from the district headquarters is Udipur, a village that has for three generations sent people to serve in the Indian Army. Chim Bahadur Gurung, 53, an ex-armyman posted "for 12 years in Bihar, Shillong and Pune", sits outside his house watching TV. He says his house is too dangerous to live in and he has moved out entirely, leaving behind a bed and a broken chair. "The police came on Wednesday and took some photographs. They said they'll do something. Since I am an ex-Army man, I also contacted an Indian Embassy official at Besisahar and he too has promised some help," he says.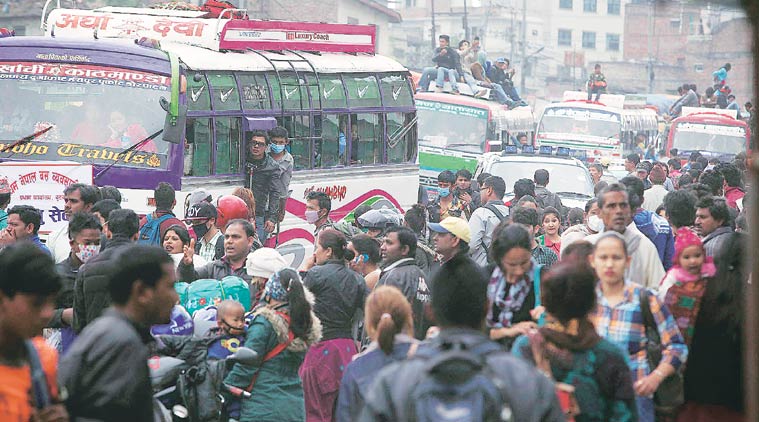 Every day, people flee Kathmandu in buses that take them to other places in Nepal or to Gorakhpur on the Indian side. (Source: Express photo by Vishal Srivastav)
At Besisahar police station, Assistant Sub-Inspector Bir Bahadur Thapa Magar says the bodies of the four people who died in Lamjung were retrieved either by the police or health officials, with help from residents. "It is a calm district, some houses have been damaged but help seems unlikely. People just want to move on," he says.
At least that's what Balram, 57, wants to do. Sitting outside his collapsed mud house, the 57-year-old farmer says he is not expecting any help. "I built my house then, I'll build it now. I'll build it as many times as the Earth wants me to."
Source:: Indian Express