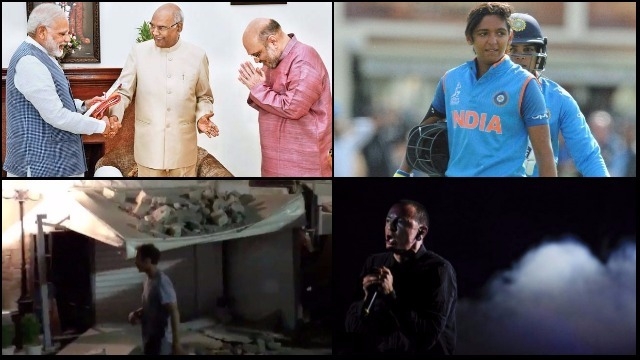 1. President-elect Kovind's village in UP hopes for better days ahead
"It is like Diwali and Holi coming together," said a veiled Ganga Devi Kovind, relative of the President-elect, as she distributed sweets hours before the result was officially announced. here
2. Apple gets personal data, why not state, asks Supreme Court
The final view of the nine-judge Bench will be a core factor before a five-judge Constitution Bench, which is waiting to decide whether the Aadhaar scheme is a violation of citizens' right to privacy. here
3. Strong earthquake rattles Turkish and Greek coasts, at least 2 dead, scores injured
Greek holiday island of Kos is reportedly the most affected area. European quake agency EMSC warns of a small tsunami. here
4. 'Kaurnage' at Derby: Harmanpreet powers India to epic win against Australia in WWC semifinal
Harmanpreet Kaur produced one of greatest ever ODI knocks in women's cricket as India stormed into the ICC World Cup final, demolishing Australia by 36 runs in the semi-final, in Derby on Tuesday. here
5. Linkin Park singer Chester Bennington commits suicide
Linkin Park lead singer Chester Bennington, who sold millions of albums with an ever-changing mix of hard rock, hip-hop and rap, was found dead in his …read more
The long-running science fiction franchise Stargate will be returning later this fall with a new digital show from MGM called Stargate Origins. The announcement was made today at San Diego Comic-Con, during a 20th anniversary retrospective on the series Stargate SG-1.
Each episode of Origins will run 10 minutes in length, with the first season of 10 episodes available exclusively on a new website called Stargate Command. According to MGM's announcement, Command will also be an official destination for all things Stargate, including a "variety of Stargate assets and content from the franchise's nearly 25-year history."
"We've been eager to revisit the Stargate franchise and create an all-new story that honors the founding mythos," MGM's…
Marvel fans got a better glimpse of what's ahead for the Inhuman Royal Family during today's Inhumans panel at San Diego Comic-Con. In the series' latest trailer, we see more of the conflict between Black Bolt (Anson Mount) and his brother Maximus (Iwan Rheon), and some of the royals' special abilities.
Inhumans, created by Iron Fist showrunner Scott Buck, is Marvel's latest series for ABC. The show will take viewers to Attilan, the Royal Family's home on the moon, and seemingly focus on politics in the Inhumans' world. Maximus, otherwise known as Maximus the Mad, is being depicted as both the catalyst and core antagonist in the series. He loves his people, but still wants the throne, and is willing to…