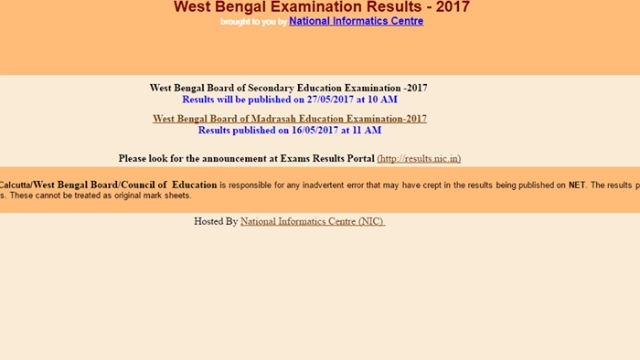 West Bengal Class 10 Results 2017: West Bengal Board of Secondary Education (WBBSE) will be declaring the Madhyamik Pariksha Result 2017 in just an hour from now. Students who appeared for the WB 10th Class examination between February 22 and March 3 this year will be able to access their results on West Bengal board's official website – wbbse.org, wbresults.nic.in.
Around 10 lakh 72 thousand students appeared for WB Madhyamik Pariksha 2017, as compared to 11,43,372 candidates last year.
About West Bengal Board of Secondary Education (WBBSE):
The Board of Secondary Education was established in 1951 under an Act of the State Legislature called the West Bengal Secondary Education Act of 1950.
The operational ambit of the Board has increased manifold over the years. In 1951 the Board started its journey with 1270 high schools taken over from Calcutta University which increased to 2312 by the end of 1963 and to more than 8000 by the, end of 1975 including some schools outside the territorial jurisdiction of the State. Presently the Board is handling around 10238 numbers of schools.
With the increase in the number of recognised schools, the examinees appearing in the Secondary Examination (School Leaving Examination with a general syllabus) have …read more
Click Here: https://www.moneygram.com/wps/portal/moneygramonline/home/estimator?LC=en-GB