Hosteliers say poster with threats against Najeeb Ahmed put up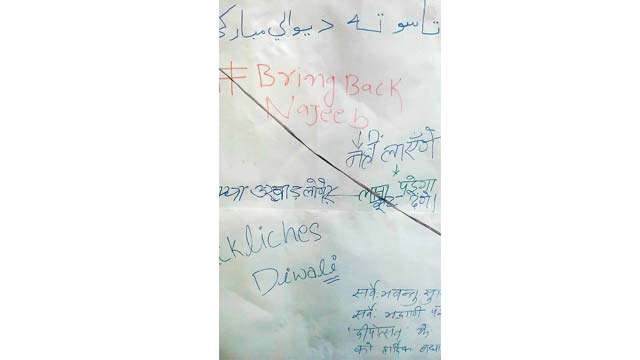 Residents at Jawaharlal Nehru University's (JNU) Mahi Mandvi hostel, from where 27-year-old student Najeeb Ahmed had gone missing in October last year, claimed to have seen a poster which made "threatening" remarks against Ahmed at the hostel premises on Thursday night.
Due to this recent turn of events, the atmosphere at the hostel remain charged up on Friday.
According to hosteliers at Mahi Mandvi, a piece of paper was pasted by the hostel's managing committee at the entrance to write Diwali greetings. But instead, they said, "threats" and "taunts" about Najeeb were found written on it.
"The paper was removed from the entrance after several students had objected to it. We have sent a picture of that to the CBI investigating officer looking into Najeeb's case," said Shahid Raza, second-year Mphil student and a resident of the hostel.
Amid multiple Diwali greetings, some students wrote #BringbackNajeeb on the paper. "Some students intentionally tried to create tension and wrote comments like 'nahi layenge' (will not bring) and 'kya ukhaad logey' and 'kaat denge' after it," he added.
Raza was one of the eyewitnesses of the alleged scuffle that took place between Najeeb and RSS-backed ABVP members, a night before he went missing.
Some students also claimed that …read more
You may also like...