Happy Sankranti 2018: Best wishes, WhatsApp, Facebook messages for Pongal, Lohri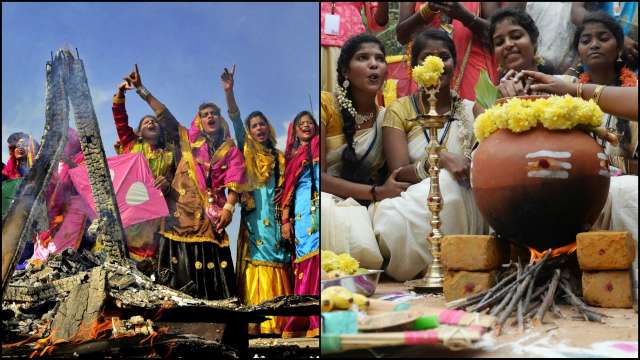 The festival season for the year 2018 is ready to kick off with Lohri on Saturday, Makar Sankranti on Sunday, and Pongal lasting until Wednesday, January 17.
Uttarayan will welcome longer days and shorter nights as Earth's tilted 23.5 degrees inviting Spring followed by Summer seasons for the Northern hemisphere. This celestial event will be celebrated by Indians across the world in the form of either Lohri, Sankranti, or Pongal or Poki or Bihu or other traditional ways.
'Tis the time to get into kite flying competition, eat sweets, dance around Lohri fire, or celebrate the harvest by worshipping Sun. It is also the time to greet one another. Here are a few suggestions you can send to your friends, family, and loved ones on WhatsApp, Facebook, Twitter, or Instagram to celebrate the occasion.
1. लोहड़ी की आग में दहन हो सारे गम
खुशियों आएं आप के जीवन में हरदम
2. Isse pehle ki Lohri ki shaam ho jaye,
Mera SMS auron ki tarha aam ho jaye,
Aur saare mobile network jam ho jaye,
Aapko Lohri ki bahut bahut shubhkamnayein.
Happy Lohri!
3. पॉपकॉर्न की खुशबू, मूंगफली रेवड़ी की बहार,
थोड़ी सी मस्ती, अपनों का प्यार..
आपको मुबारक हो लोहड़ी का त्यौहार
हैप्पी लोहड़ी 2018
4. On this joyous night…
dance …read more
You may also like...