New Zealand vs South Africa: Moments where Proteas 'choked'
South Africa 'choked' at crucial moments in the World Cup semi-final against New Zealand on Tuesday. (Source: Reuters)
The 'C' word returns to haunt South Africa again. And, why wouldn't it? Once comfortably placed in the game, they let the match sway the Kiwis way at crucial junctures. After piling on runs with the bat, the AB de Villiers-led unit were not that bad with the ball but crucial goof-ups in the field took the game away from them. (Full Coverage| Points table| Fixtures)
Here's a look at the moments where the South Africans 'choked'
THE Slip: In the 32nd over, New Zealand were cruising at 203/4. Elliot and Anderson were in complete control and South Africa desperately needed a wicket to stay in the contest. The wicket moment did arrive, but South Africa just couldn't gather it 'cleanly'. Elliot and Anderson were involved in a terrible mix-up and AB de Villiers' agile movement set-up a possible, and very easy, run-out opportunity. The skipper did all the hard work of reaching behind the stumps in time, but failed to deliver the knockout blow. The throw arrives and AB, in the heat of the moment, doesn't carry it cleanly and disturbs the stumps with his hands. The LEDs glow, stumps remain rooted, and the Elliot-Anderson stand goes on.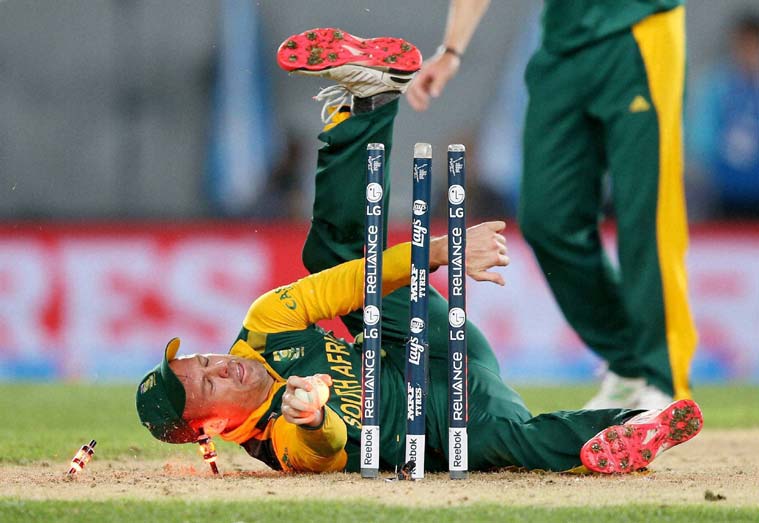 THE let-away: Proteas, after conceding 49 more runs, managed to break the Anderson-Elliot stand. With the target still a good 46 runs away, South Africa had a good shot to trigger some panic in the Kiwi camp. A couple of quick wickets could have swayed the momentum in their favour. That, however, didn't happen as Ellliot combined with Luke Ronchi and Daniel Vettori for cute little stands to push New Zealand over the line.
THE Confusion: Third last over of the innings and Elliot goes for a big swing off Morne Morkel's bowling. The right-hander fails to make good connection and the ball spoons up in the air. Fans, with baited breath, track the ball which almost disappears into the night sky. Three fielders converge only to see it drop bang in the middle. At least one of them should have gone for it.
THE Collision: The South Africans got their second shot in the 42nd over when Elliot, possibly feeling the nerves, attempted a wild heave only to top-edge towards the fine-leg region. It was in the air for a long time, Farhaan Behardien almost pulled off before he crashed into a speeding Duminy. No sense prevailed there as both fielders rushed towards the ball, without calling even once. Elliot survived!
Source:: Indian Express