India vs Australia: Key battles to watch out for
Team India in readiness for the mouth-watering semi-final clash against Australia. (Source: AP)
Come Thursday, there will be battles within the India-Australia battle for the final berth. The players know each other inside out after playing lot of cricket in the months gone by, and would be looking to exact some sweet revenge on each other. Here's a look at some key battles: (Full Coverage| Points table| Fixtures)
Mitchelll Starc vs Shikhar Dhawan
The Australian pace attack has developed a fearsome reputation and most of the heavy lifting at the end of the day has been done by none other than Mitchell Starc. The young Aussie has picked up 18 wickets in the competition so far and come Thursday will look to make his mark on the Indian top order.
The story of India's revival at the World Cup, after an abysmal tour of Australia is nothing short of legend and the revival it seems, at least in part has been led by a revitalized Shikhar Dhawan. The opening batsman has amassed 367 runs in the tournament so far and has been one of the key factors in India's recovery. His battle with Starc at the head of the order might be one of the juiciest individual encounters on display.
Glenn Maxwell vs Ravichandran Ashwin
Glenn Maxwell has been doing what Glenn Maxwell does, he has been on an unrelenting tear with the bat and has been contributing steadily with the ball. He is well in truly, Australia's Joker in the pack. His unorthodox style of batting might very well come face to face with another face of the Indian revival in Ravichandran Ashwin. The Australian has been in scintillating form and has picked up 301 runs in the tournament so far at an astounding average of 75. The Indian spin maestro on the other hand has picked up 12 wickets at an average of just over 4 and will be looking to tighten the noose around Australian necks in Sydney on Thursday.
Virat Kohli vs Mitchell Johnson
Virat Kohli has had some absolutely scintillating performances so far mixed with a few not so great ones but his prowess against pace bowling will be put to the test as Australia and India battle it out out on a relatively slow Sydney track.
The expectations are high back home and the vice-captain of the Indian team will be looking to take responsibility and take his team to a second successive World Cup final. The Delhi boy has scored 307 runs this tournament with an impressive average of over 60. The figures are irrelevant though in this case, since it's his role within the team that has changed. He's been asked to play as the glue of the team, as the backbone of an already talented batting lineup, and looking at the result so far, one would be hard pressed to say that it hasn't worked.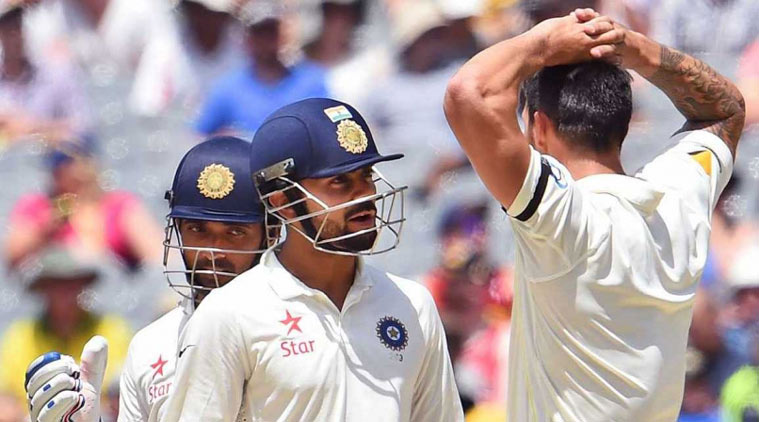 Kohli's matchup with Johnson will be key in determining which side holds the momentum at a crucial time in the game and in the end this is the matchup that may end up deciding the game itself.
Regardless of the match-ups, the strategies or the averages, it will be a game of cricket fought in the true spirit of the sport on Thursday with the winner taking their place alongside New Zealand at the grandest stage of them all.
By Rishab Darbari
Source:: Indian Express