With IPL 2015, advertisers open purse strings, score high
Advertisers are leaving no stone unturned in making their presence felt during the ongoing IPL. (Source: PTI)
The excitement over cricket in India is not limited to the spectators. Advertisers, who have invested billions of rupees into promoting their respective brands and teams, are also backing the game all year round. After the ICC World Cup, brands are now lining up for the Indian Premier League (IPL) 2015 matches to get them high visibility and reach like in the past.
Kansai Nerolac Paints has invested approximately Rs 7 crore for on-air advertising during the latest IPL season that started earlier this week. Nerolac had also advertised during the World Cup season that ended just weeks back.
The company has been associated with the IPL since the third season in 2010 and has benefitted from the association since. Yatnesh Pandey, Chief Manager, Marketing at Kansai Nerolac Paints Ltd, says, "Now, we are definitely amongst the experienced lot of advertisers. We have learnt to draw effectiveness from this medium. The investments every year are part of the overall media plan based on the company's annual budget and outlay and is never a standalone budget investment."
RCB – Front: Huawei, Back: Kingfisher, Right Upper Chest: Midea, Lead Cap: Ed Hardy
(Source: PTI)
For maximum reach, the company is running 10-second and 20-second ads of the Impressions HD range, the interior emulsion and the Excel Total range. The company is also promoting its Impressions HD range through its digital platform with the #MyHDStory campaign. "The target audience that follows and watches the IPL series is quite similar to our brand's target audience, usually men with an age of 24 years and above. So, it is certain that our ads reach out to our concerned TG which in-turn helps in giving our sales the adequate thrust required," says Pandey.
Advertising during a cricket event not only spreads awareness, it also helps translate into sales. Nerolac's Pandey adds these couple of months are good for sales in the paint industry. "Advertising during a property such as the IPL enables the brand to reach out to a suitable and a maximum target audience to garner high visibility. So yes, this association definitely helps in upping the sales game for Kansai Nerolac," he says. Pandey adds that despite the popularity and bankability of cricket, annual spends on tournaments are not always fixed or pre-decided.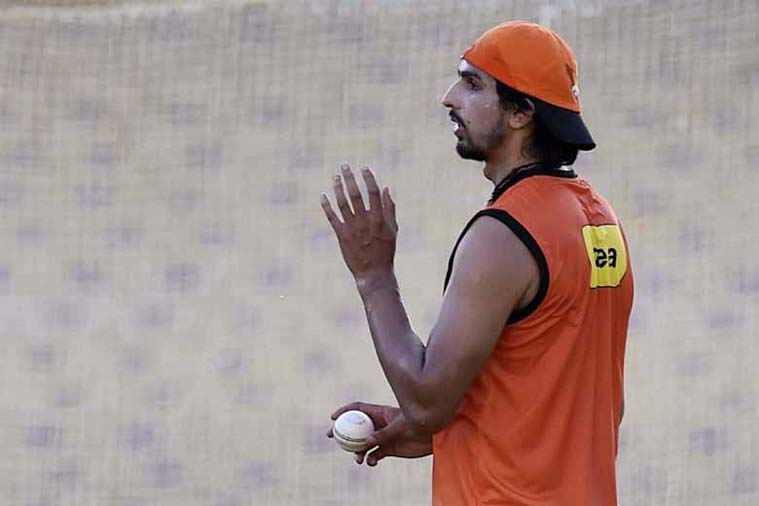 SRH – Back: Idea, Lead Arm: Datawind
(Source: PTI)
Nerolac is not alone. IPL-8's title sponsor, PepsiCo, has started a "Crash the Pepsi IPL" campaign challenging consumers to make a 30-second Pepsi ad, with winning entries replacing the brand's official ad on-air during Pepsi IPL 8. Consumer durables maker Usha International is sponsoring the Mumbai Indians team, Kama Sutra DEO Spray is the official grooming partner of the Delhi DareDevils team and HTC is the principal sponsor of Kings XI Punjab. Amazon has partnered with the channel, Sony. It's not directly participating in IPL-8.
Vodafone, as India's leading telecom services provider, is the only prominent brand that has remained associated with IPL since its inception in 2008. On an average, 20% of its annual advertising budget is assigned for the IPL campaign, now tilted more towards digital media. Ronita Mitra, Sr Vice President –Brand Communication and Consumer Insights, Vodafone India, says, "Over the past seven years, our experience so far has been that if you do things that are truly innovative and cutting edge during the IPL then the impact multiplier effect and bang for the buck is unmatchable. Cricket resonates with Indian audiences and no other cricketing platform packages sport, talent, chutzpah and entertainment together on one platform, as successfully as the IPL."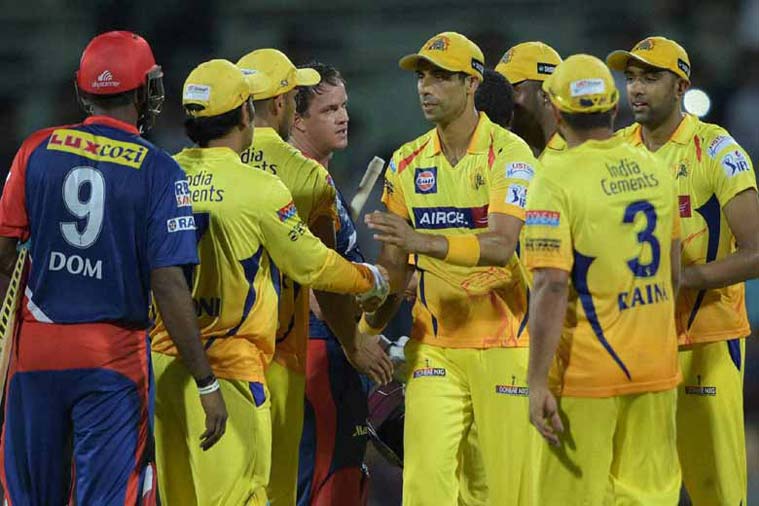 CSK – Front: Aircel, Back: India Cements, Right Upper Chest: Gulf Oil
(Source: PTI)
Also, Vodafone is launching the 'Speed is Good' campaign that reinforces its network credentials in an engaging manner. "The high decibel campaign aims to position Vodafone as the fastest 3G network in the country," adds Mitra.
GroupM ESP (Entertainment & Sports Partnerships), a specialist business unit of GroupM, recently released 10 trends for IPL 2015. It lists apparel as an emerging and popular sponsor category among franchises. Sponsor's increased dependence on crowd sourcing to create excitement around their brands and e-commerce brands will dominate ad spends on broadcast platform, the report says.
Source:: Indian Express