IPL 2015 Live Score, CSK vs KKR
IPL 2015 Live Score, CSK vs KKR: Consistent CSK take on distracted KKR in Chennai on Saturday. (Source: BCCI)
Chennai Super Kings (CSK) take on distracted Kolkata Knight Riders (KKR) after the Sunil Narine case in Chennai on Tuesday. Catch the IPL 2015 live scores and IPL 2015 live updates of the CSK vs KKR match here. (Full Coverage| Fixtures|Points Table)
IPL 2015 Live Scorecard: Chennai Super Kings (CSK) vs Kolkata Knight Riders (KKR)
Catch the social buzz of #CSKvsKKR here
Build Up
It's the clash of the titans on Tuesday as KKR and CSK square off against each other at Chepauk on Tuesday.
How the teams look ahead of the encounter:
IPL 2015 Live Score, CSK vs KKR: CSK would hope that the batting performs once again. (Source: BCCI)
What went right: Sandeep Sharma bowled fullish outside off stump. Brendon McCullum had set himself up for a lap over fine leg. The Kiwi changed his mind at the last moment and played a ramp to third man boundary. It was contemptuous. Chennai, too, rolled over Punjab with contempt.
What went wrong: After finishing second best in a rain-truncated affair against Sunrisers Hyderabad, the defending champions would love to get back to winning ways.
'Narine's case a bit confusing'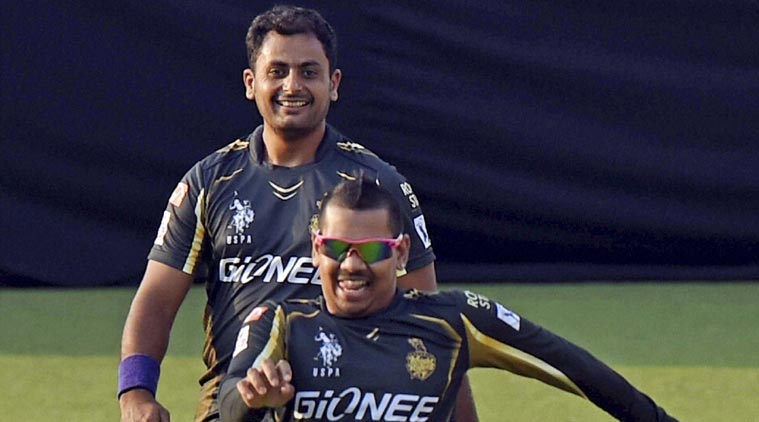 IPL 2015 Live Score, CSK vs KKR: Despite having his action reported, Narine is allowed to continue bowling. (Source: PTI)
Chennai Super Kings coach Stephen Fleming is expecting a tough battle at home against Kolkata Knight Riders in the Indian Premier League in Chennai on Tuesday.
"They are an excellent side. They have some good batters. We have played them last in couple of finals and in the recent Champions League. So, we have a very healthy respect of the KKR squad.
Source:: Indian Express