Kalki Koechlin on being Laila in 'Margarita With a Straw'
Kalki Koechli talks about what drew her to the script of 'Margarita With A Straw', and how she prepared herself to play a disabled person who desires to live an ordinary life.
Having successfully carved a niche for herself in Bollywood over the years, Kalki Koechlin has never shied away from experimenting with cinema, be it doing an independent film like 'The Girl in Yellow Boots' or a huge box office commercial success with the likes of 'Yeh Jawaani Hai Deewani' and 'Zindagi Na Milegi Dobara.'
But, the actress is currently making headlines for her recent release, 'Margarita With a Straw'. The wide-smiled and energetically spirited beauty has garnered immense praise for her portrayal of Laila, a girl suffering from cerebral palsy in Shonali Gupta's directorial venture.
A still from the movie 'Margarita With A Straw'.
In an exclusive conversation with Indian Express, The Indie Queen talks about what drew her to the script and how she prepared herself to play a disabled person who desires to live an ordinary life.
In terms of the process she underwent to get into the skin of the character, this was the first time that Kalki took a considerable period to prepare herself, both physically and mentally. "I have never worked so long in preparation for a film. In theatre of course, we do rehearsals all the time, but for film, I have never had that kind of time or preparation. So, it's a great learning curve for me, as an actor because that practice on a daily basis for so long makes it so automatic that in fact when I did the film, I wasn't thinking about the physicality because it had became a habit. That freed me a lot more to be able to work on the emotions of Laila," said Kalki.
Playing a character trapped in a wheelchair was certainly no easy feat. Yet, Kalki is admirably at ease while doing so. "Once I got my wheelchair, it was the question of practicing at home. So, everyday I would sit in that wheelchair for about one or two hours, doing whatever normal activities I had to do like taking a bath or working on my computer, I did it as Laila. And then began the actual process we do for the film – where we did six weeks of intense workshops, which Shonali organised with actor Adil Hussain."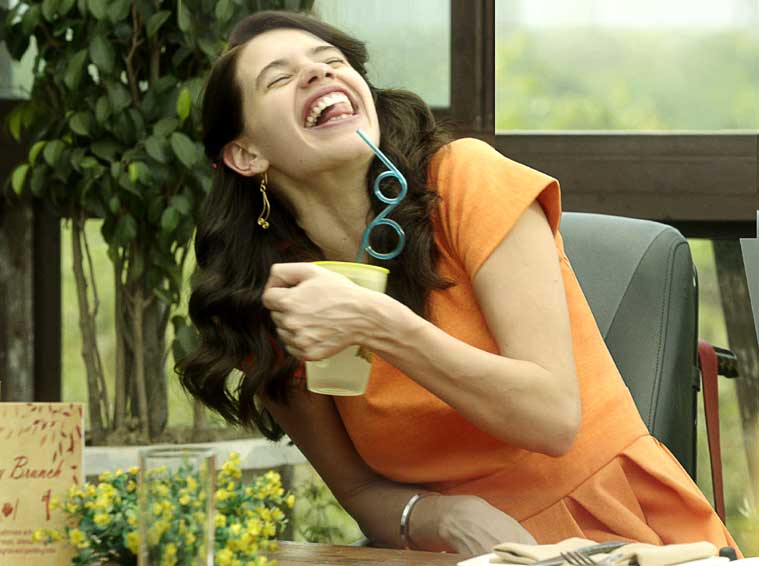 Kalki Koechlin on a wheelchair in a still form the movie 'Margarita With A Straw'.
"But, I think I got the real psychology cerebral palsy only when I sat in the wheelchair. So, right before the filming started for about two weeks and during the whole film, I stayed in the wheelchair most of the time, as much as possible. So, that sense of not being able to get up whenever I wanted, having to depend on others to take me somewhere, or to get me lunch or a bottle of water, that dependency was frustrating. Also, people tend to stare a lot and are quite awkward around people with disability. Some also tend to infantilise you and you think I'm a grown woman, so treat me like one. All those frustrations came up only when I was spending all my time in the wheelchair," she adds.
Talking about how uninformed we are as a society when dealing with people suffering from cerebral palsy, Kalki says, "Many do not understand that cerebral palsy is basically a term for somebody whose muscles are not working. It is a physical condition. However, a lot of people with cerebral palsy might also have autism or some mental condition, if they have a longer asphyxiation, because it usually happens due to lack of oxygen to the brain. So some people have a lot of other problems as well. However, people term everything as cerebral palsy but it's not. And there are still others who are affected so lightly by it, maybe just one hand has a problem and the rest of their body is fine. It's quite different for each person. It was the question of getting to know a lot of people and then choosing what we wanted for Laila."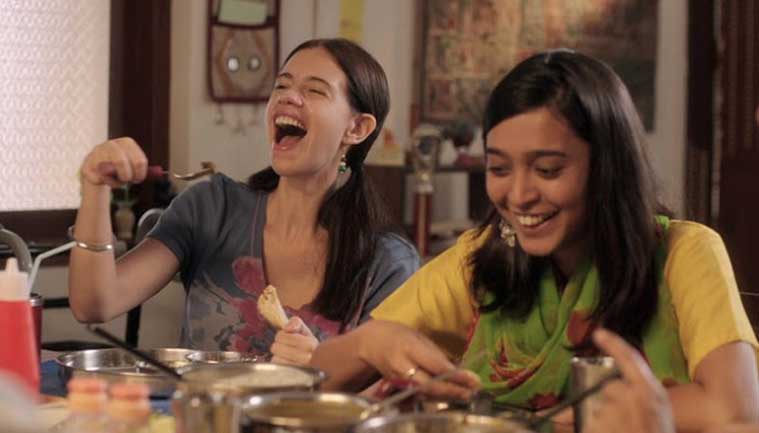 A still from the movie 'Margarita With A Straw'.
Kalki herself admits to being clueless about dealing with the illness before 'Margarita With a Straw'. Sharing her interaction with Malini, the cousin of director Shonali Bose, on whom the character of Laila is inspired, she says, "I was very intimidated when I first met Malini. I didn't know what to say or do. And it took me a while to realise that she is just like everybody else. Malini is used to this since birth, so for her she doesn't see what she's missing. She just gets frustrated that other people think that there is something less about her. We tend to put the pity on disabled persons, we feel sorry for them. And then that's how a lot of times, they start feeling sorry for themselves."
"But, I think we have successfully captured the spirit of Malini in the film. She laughs at herself, makes jokes, tells people to stop staring her and we didn't want the film to be depressing, it's just about somebody who wants to live her life despite being in a chair."
The actress also talked about the sense of responsibility she felt playing a real-life character, based on somebody so close to the director. "We did not copy Malini's life at all. It was not her biography. It was a lot more from Shonali's personal life and I owe her a lot for being so open, she just let everything out. And that really helped me build Laila's character. I don't know if I felt the pressure, but definitely responsible in getting the accuracy of cerebral palsy, because it's a representation of real people."
Kalki says she could relate to Laila in more ways than one, especially when it came to teenage romance. "As a teenager I was very awkward in my skin. I was never in the cool gang, I had braces and was quite the geek as well as a tomboy. But like any girl, I wanted romance and attention. And I remember liking this one guy a lot and doing everything I could to get him. And when I finally did, I was like, 'I can't believe I liked this guy!' I was so immature and stupid and Laila is like that in the beginning."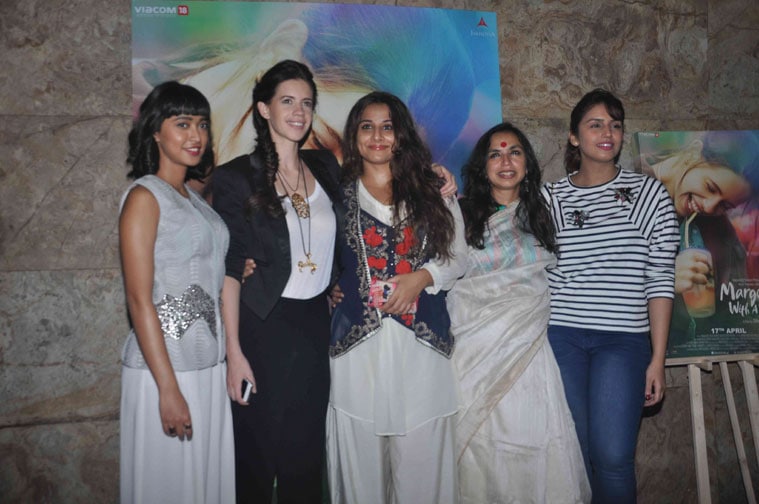 Kalki Koechlin at the screening of 'Maragrita With A Straw' along with co-actor Sayani Gupta and actress Vidya Balan.
Unlike most films, 'Margarita With a Straw' boldly tackles the raw and awkward aspect of sexual intercourse in a beautiful manner. On the importance of its inclusion in the film, the actress says, "We're exposed to scenes where everything is like a James Bond film, beautiful and sweltry, everybody is golden skinned and sex just happens. But, that's so not how it is, it is awkward and weird and messy and painful. The first time, you don't know what you're doing. And in our society, we're given so little education and just get thrown into the deep end and many a times are unaware of how to deal with it."
While Shonali Bose was clear that Kalki was the first choice for Laila, in reality the role almost slipped through her fingers. Casting director Nilesh Maniyar, who has also co-written 'Margarita With a Straw', had put up a bright smiling picture of Kalki as a reference point during the working of the script. It was only a year later after it was complete, that they sent the script to her and she absolutely loved it. But, at the time, Kalki was busy shooting for Ayan Mukerji's 'Yeh Jawaani Hai Deewani'. "It was delayed by 3-4 months, so they couldn't wait for me. They had the money and everything was set for the film to start. So, Shonali and me met, we both cried and were like 'I really want to do it man, but now I cannot wait and you cannot cancel your film." So, we left and they apparently auditioned some 100 other people, both abled and disabled and then came back to me. Because out of the people they auditioned, there was always something missing," explains Kalki.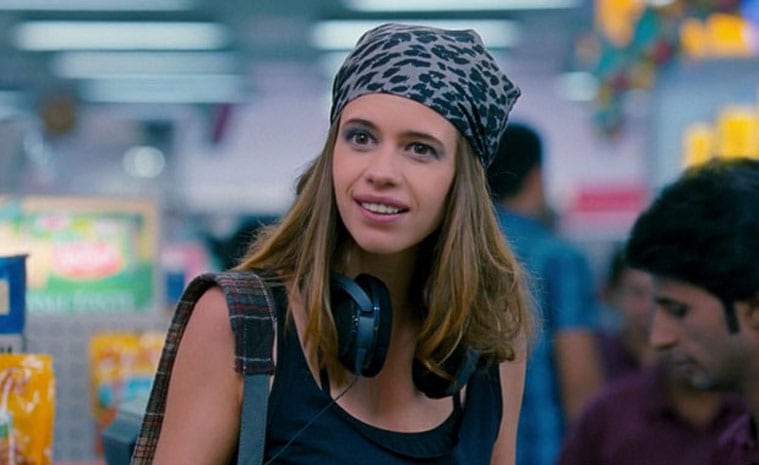 Kalki Koechlin in a still from the movie 'Yeh Jawaani Hai Deewani'.
It's no wonder that Laila shares an incredible bond with her mother in the film. More than feeling Laila's pain, one actually reaches out emotionally to Aai. On working with actress Revathi, Kakli is full of praise and admiration. "I think she's one of the coolest, nicest sweetest people I've ever met. She was so patient, very conscientious and very spontaneous as an actor. This was the first time she ever rehearsed for a film in all her career, because she's always been used to just showing up and doing it right. She would never learn her lines because she wanted that slight newness to it. So, she would just come up with them at the last moment. So it brought a real spirit to her character. We got on really well with our whole Tamil background and she makes great sambhar," she says smilingly.
About her onscreen lover, Sayani Gupta, she says, "She is like this FDI student, super sincere and hard working. She also put in a lot of preparation for her role as a blind person, and did a lot of research. We were quite comfortable with each other. We had also worked together in theatre before in a play called 'Trivial Disasters'."
Though dealing with a sensitive subject of cerebral palsy, 'Margarita With a Straw' has some bold scenes especially considering that ours is a country where homosexuality is illegal. The international reception to the film has been highly impressive – Premiered as part of the Contemporary World Cinema Programme at the 2014 Toronto International Film Festival (TIFF). It later went on to be screened at Tallinn Black Nights Film Festival in Estonia, BFI London Film Festival, Busan International Film Festival (BIFF) and the Santa Barbara International Film Festival.
'Margarita With a Straw' also won the NETPAC award World or International Asian Film Premiere at 2014 Toronto International Film Festival (TIFF) as well as received the award for Best Feature Film at the DC International Film Festival. But was the team apprehensive about the reaction of Indian audiences?
"It's not a film that is meant only for a tiny audience. And I've noticed that parents have been going to watch it with their children. My whole building has seen the film and they are all pretty conservative families. So, I feel this is a family film, even though it is an adult film. It's something that everybody can relate to because it is about family and it's a happy film. Even though it has a lot of drama and sadness, it is an uplifting film. In the end, it is about believing in and loving yourself," says Kalki.
The film also received immense support from actor Aamir Khan and his director wife Kiran Rao. Aamir was reportedly in tears after watching it and heaped praises on Kalki. "I didn't meet him when he saw the film for the first time," says Kalki. "Shonali told us that he was watching the screening and she was watching it with him. He was expecting that it wouldn't be so great, but Kiran went on and on so he decided to watch the film. And apparently, he was just laughing and crying and totally into it. And I met him much later, he sat me down and said, 'How can we be sure that everybody sees this film?'"
Aamir Khan along with his wife Kiran Rao at the screening of 'Margarita With A Straw'.
While most see her as the champion of Indie cinema, Kalki infact admits that she would love to play a role in a typical run-around-the-trees Bollywood romance. The actress says, "It's all about what comes my way. If I have more commercial films, I would do more commercial cinema. I don't want to choose between commercial and independent cinema, I just want to choose between a good film and a bad film."
"70 per cent of the films that come my way are independent films, out of which, I say no to 50 per cent of the films. I do get less offers from commercial cinema, and that's probably because of how I started but I am not opposed to doing either as long as I know I'm bringing something new to the story or if it is necessary to the plot. I also do not want to repeat myself as an actor. I don't even mind playing a bimbo or a silly girl, as long as it isn't stereotyped and there's a reason for that character to be part of the story. I don't have any limitations that I only want to do serious films. I am trying to break that image but not very consciously."
However, the actress does admit to a blurring of lines between commercial and Indie cinema "We have directors like Dibakar Banerjee, Zoya Akhtar and Anurag kashyap who are shifting between commercial and indie cinema. At the same time, you have actors like Deepika Padukone, who will do a 'Finding Fanny' and deliver a hit like 'Happy New year'. So it's a great time for cinema."
Kalki also shared what she has in store for us in terms of upcoming film projects. Firstly, she is wrapping up a film Anu Manon's 'Waiting' along with Naseeruddin Shah. "It's a story of a very old man and young woman who meet in a hospital. It's about comas and waiting basically, when you don't know what's going to happen and your life is on hold," explains the actress.
Her next project, 'Love Affair' is a Pooja Bhatt production, to be directed by Soni Razdan. "It's a 1950's murder trial. I have watched a lot of Soni's plays and she has seen my theatre as well. So it's really nice to be working together."
About her literal onstage career, Kalki has a few surprises there as well. "Right now there are plays that I keep doing – 'Hamlet the Clown Prince' and 'Colour Blind', which Manav Kaul has directed, and that I have co-written as well. It's about Tagore's life and this Argentinean feminist who fell in love with him. Apart from that, I am directing my first play – a satirical take on death, which I have written. It's opening in July."
Source:: Indian Express