IPL Live Score, CSK vs SRH: CSK win toss, elect to bowl against SRH
IPL Live Score, CSK vs SRH: CSK take on SRH in Hyderabad on Saturday. (Source: BCCI)
CSK, IPL's most consistent team, won the toss and decided to bowl first against SRH in their IPL 8 match in Hyderabad on Saturday. Catch the IPL Live Scores and IPL live updates of the CSK vs SRH match here (Full Coverage| Fixtures|Points Table)
IPL Live Scorecard: CSK vs SRH
Catch the social buzz of #CSKvsSRH here
Build Up
IPL Live Score, CSK vs SRH: Warner alone is carrying Hyderabad batting. (Source: BCCI)
What went right: Sunrisers Hyderabad brilliantly defended a modest 150 against Kings XI Punjab. The team management's decision to play Trent Boult ahead of Dale Steyn stood vindicated. The Kiwi fast bowler was top-class, bowling with pace and swing upfront and then landing his yorkers perfectly at the death. He returned with 3/19 in his four overs and the Man of the Match award. Ashish Reddy's eight-ball 22 not out was equally important. It gave his bowlers something to bowl at.
Chennai Super Kings (lost to KKR)
What's going wrong: Chennai should be concerned about their successive middle-order collapses. They threw away good starts in their back-to-back fixtures against Kolkata Knight Riders. MS Dhoni is not quite in his element with the bat. He looked a little clueless when Piyush Chawla breached his defence in the last game. A marauder has become a grafter. Maybe it's time for the Chennai captain to throw caution to the wind and take his team on a helicopter ride.
'We know that we need to spring a few wins'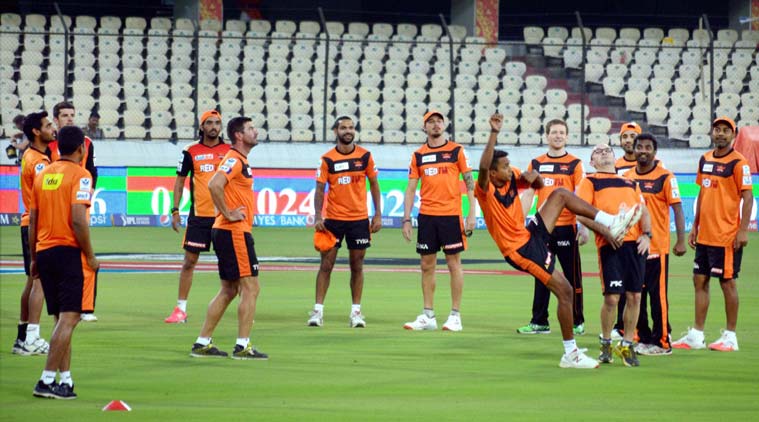 IPL Live Score, CSK vs SRH: SRH middle order has failed to put enough runs on the board. (Source: PTI)
Sunrisers Hyderabad's coach Tom Moody said his middle-order batsmen will have to capitalise on the early starts given by David Warner and Shikhar Dhawan to turn their fortunes in the ongoing IPL cricket tournament.
Source:: Indian Express