Aishwarya Rai Bachchan on Twitter for Cannes 2015, shares a secret about Aaradhya
Aishwarya Rai Bachchan posted a picture of herself, shared a video and responded to fans on Twitter. (Source: Twitter)
Aishwarya Rai Bachchan, who is currently at the ongoing 68th Cannes Film Festival, made her debut on Twitter today (May 20). The actress, who is the face of international cosmetic brand, L'Oreal Paris, posted a picture of herself, shared a video and responded to fans.
Good morning world! Rise and shine! Can't wait to share my day with you! #AishwarysTakesOver pic.twitter.com/51eKJXxoAP

— L'Oréal Paris India (@LOrealParisIn) May 20, 2015
In the short video clip, Aishwarya Rai talks about her inspiration, her mother Vrinda Rai who she says will always inspire her.
Seen here, Aishwarya Rai Bachchan leaving for Cannes 2015 along with daughter Aaradhya and mother Vrinda Rai. (Source: Varinder Chawla)
The actress also spoke about her three-year-old daughter Aaradhya who also plays an active role when it comes to inspiring her. "She inspires me to continue holding on to a child-like view and spirit, energy about life," says Aishwarya Rai in the video shared on Twitter.
In Pics: Cannes 2015: Aishwarya Rai Bachchan stuns in maroon at 'Jazbaa' launch

As per a fan's request, the mother-of-one also spoke about her memorable moments with Aaradhya. "Every moment with her is memorable and special. I'm blessed and thankful to God that I have her in my life and discovered love – the very definition of it, experience it every single second of my life with her," said a teary-eyed Aishwarya.
[youtube http://www.youtube.com/watch?v=4WqNOJKskrE?version=3&rel=1&fs=1&showsearch=0&showinfo=1&iv_load_policy=1&wmode=transparent&w=640&h=390]
The actress found it difficult to pick just one special memory, but talked about Aaradhya in Cannes. The tiny tot has been visiting the French Riviera with her mother since she was six-months-old.
"I take her around to the little play areas. This is my 14th year at Cannes and before Aaradhya, I'm not sure I even looked that side of Cannes because there was media and everything else that I was doing. And since the last three years, I got to the carrousel and the play areas – I have discovered them and they are really sweet. There are so many kids in town that you siuddenly look at a different view of Cannes and enjoy it. Some wonderful memories for us to cherish," she says in the video.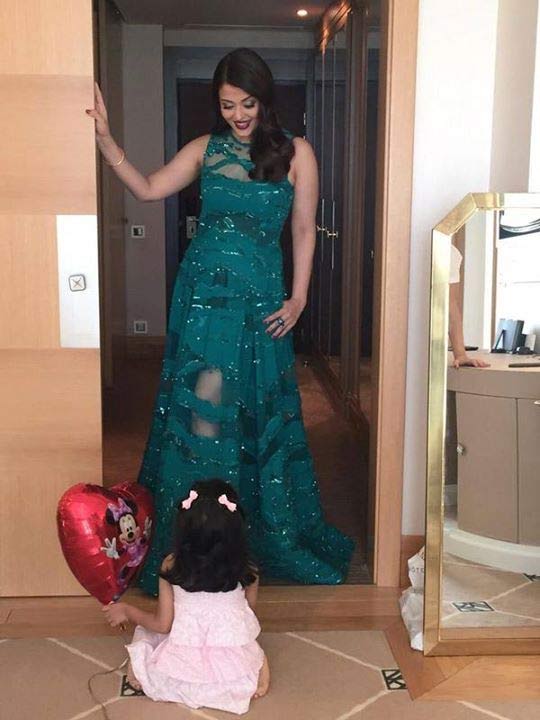 This mother-daugther picture of Aishwarya Rai Bachchan and Aaradhya went viral. The tiny tot seems to be admiring her beautiful mother, before the actress walked the Cannes red carpet.
Aishwarya let us in on a secret – "And very sweet on the part of the security here and my security guy Frank, who I call family today. They managed to sneak in Aaradhya and have her take her steps on the red carpet right from the time that she started to walk. So, it is kind of cute to have that every year."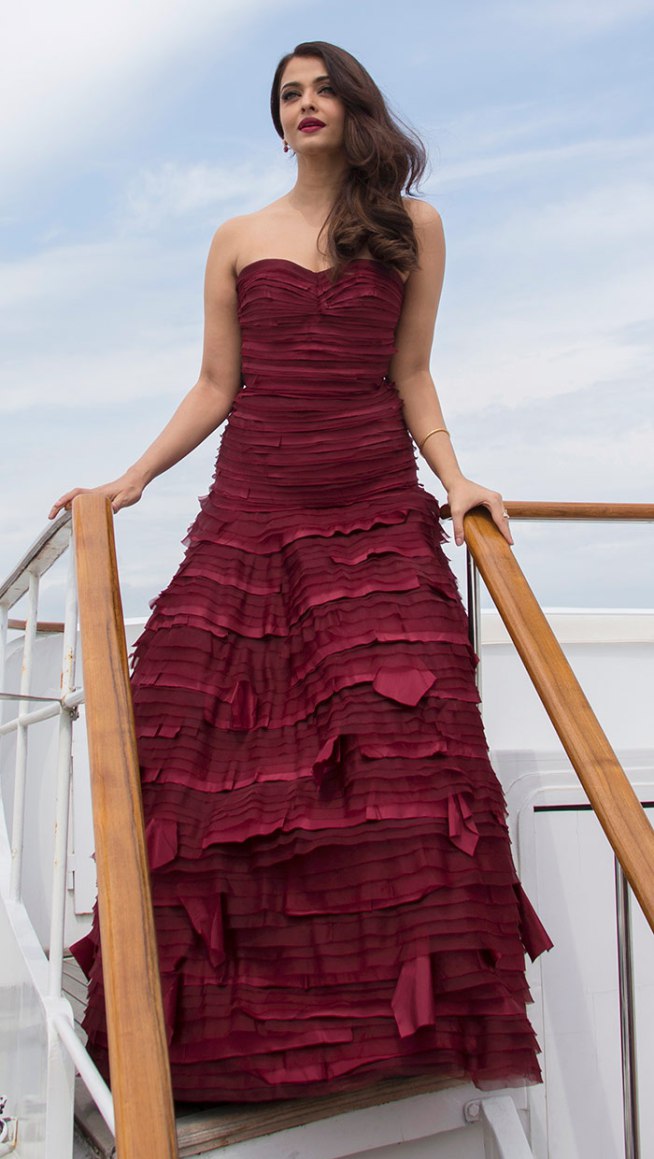 Aishwarya in the oxblood Oscar de la Renta gown for the 'Jazbaa' launch at Cannes. (Source: Reuters)
Aishwarya's latest Cannes fashion choice – the oxblood strapless Oscar de la Renta has been receiving much praise and attention. The actress wore it to photo ops at the launch of her forthcoming film, 'Jazbaa' at Cannes.
She will also be seen at the amfAR gala.
Source:: Indian Express