Rumble in a remote jungle
The SVNSI Stadium in Raipur lights up to welcome the IPL.
Life is full of bimari (disease)," says Nitin Choudhary, squinting at the mid-day sky. He is the protagonist of this piece and a quasi cult-hero in many pockets of Raipur. "So," he adds, "it is always important to carry dawai (medicines)."
When he said it, we were both seated on Raipur's 'Marine Drive' — a brick, mortar and marble promenade built around a muddy lake in the nucleus of Chhattisgarh's capital city. But now, a moment later, Nitin is immersed waist deep into the driver's seat of his car (parked with its windows rolled down by the kerb), fetching a bottle of Indian whiskey from the glove compartment.
He pours generous measures of the spirit into two plastic glasses, handing me one and knocking back the other. "Won't we get caught?" I ask even as he cringes with content. He replies with a smile, and then leaps across the marble barricade and trots down the steep incline of silt, simultaneously shocking face-scarved couples and unzipping his fly to urinate into the lake.
So I weigh my only option and gulp, a gulp that promptly warrants a policeman to arrive at the scene of crime on his motorbike. Not a surprise, considering we're in Raipur's central 'natural' attraction, at a quarter to 12 in the afternoon.
"Making peg?" he asks, in English and in rhetoric (a whiskey glass in my hand and a bottle by my side, after all). But before I can answer, Nitin returns over the wall, fly zip still in hand, waving his free palm at the cop.
The man in khaki seems alarmed by my friend's presence at first. Then he recovers, waves back, lowers his eyes and re-mounts his bike. It isn't quite a salute, but somehow it feels like one.
"Do you know the policeman?"
"He knows of me," Nitin says. "Almost everybody in Raipur knows of me."
"Why?"
"Because everyone here respects me."
"Why?"
"You'll think I'm lying. But I will tell you," he says, chest swelling with pride. "I know IPL cheerleaders. Personally.
"My travel agency is responsible for driving gori mem from their hotel to the stadium and back," he adds. "Wait, I'll show you my Facebook."
***
"You are very lucky," the receptionist at my hotel on Station Street had exclaimed when he saw Nitin arrive with his taxi earlier this morning. "The owner of the travel agency has come for you himself." His fleet of cabs, I was soon told, are stationed outside every hotel and hostel in the city to wheel tourists around. But, clearly, he wasn't famous for being a shrewd businessman.
"My brother, Vicky Choudhary, is a celebrated director of Chhollywood (Chhattisgarh's Bollywood). My father's brother is a don, a goonda. But I have more respect than the both of them put together," Nitin tells me as he crumples his plastic glass and tosses it over his shoulder into the lake. "Why? Because not everyone in Chhattisgarh knows gori mem. But everyone wants to."
A spectator in Raipur trains his camera phone at the cheerleaders.
When he means everyone, he does. Literally. Exactly a day later, a dozen Kotwali policemen raided the hotel in which the Chennai Super Kings cheerleaders were put up in, without a warrant in hand mind you, to interrogate the frightened for over an hour.
Anshuman Singh Sisodia, Raipur's City Superintendent of Police, was later quoted as saying that it was nothing more than a 'routine check'. But some members of the hotel staff and my driver had more plausible explanations.
"The police thought they weren't cheerleaders, but escort girls," one staff-member is quoted as saying on a website. But Nitin doesn't agree. "The police knew exactly who they were," he tells me later. "Because they are cheerleaders, everyone wants to get a little bit closer. Even the police."
***
As we head towards the car for a promised spin around the city I wonder why he is with me at this point and not doing his duty of shepherding those said celebrities (who even Raipur's police would soon want to be around) to the venue later in the evening.
"I had my fill during last year's CLT20," he replies. "Aur, mere company mein baaki bhi laundey hai. Sabko mauka chahiye. (My agency has other driver's as well. They too aspire for the privilege)."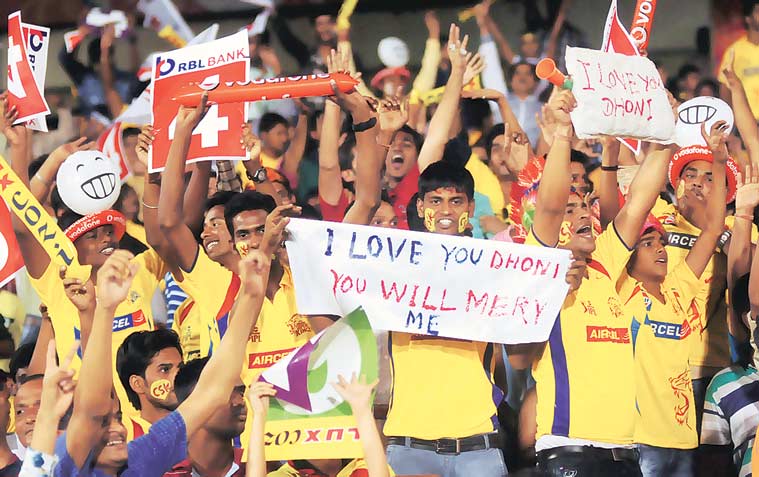 The men in Raipur love CSK's MS Dhoni. And they let him know about it.
The Champions League T20, the most obscure ritual of an already obscure cricket calendar, placed eight of their 23 games in Raipur's obscurity last year — sometimes with two matches a day in the same, remote venue. It gave Nitin's convoy plenty of business. And him respect. He would pick them up from a run-down motel called Hotel Raipur Inn on Station Street at mid-day and be there for their post-midnight return.
"My cars would get so crowded that two girls would squeeze into the passenger seat and five at the back," he says, fishing out his smart-phone for pictorial evidence.
Were they friendly? "Yes. On Facebook, they've even asked me to visit them to their countries."
And how did they communicate? Nitin chuckles. "We couldn't pronounce each others' names. They called me 'Teen'. I called them Shilpa, Sweta, Jaya, Roopa, any Indian name of my liking. Woh bhi khush. Mein bhi khush. (They were happy. I was happy)."
Then he sloppily ignites the engine, leaving me with no choice but to ask the most sought after driver in town if he is okay to drive. And how does a semi-drunk hero behind the wheel respond? With a Salman Khan dialogue, of course. "Saali chadti hi nahi. Kick film mein Salman bhai ne bola (I never get high. Salman said so in the movie Kick)."
***
Raipur came into national prominence in November 2000 when the state of Chhattisgarh was formed by partitioning sixteen districts from Madhya Pradesh. Until it became the capital, this place was best known for being the town in which a teenage Swami Vivekananda attended college. There are many of those nineteenth century educational institutions still present in this city. Yet, today, Raipur's major landmarks are twenty-first century malls.
"This is Magneto Mall," says Nitin, pointing at an obnoxious rugby-ball-like structure with its superhero name printed in bold on the glass facade. "When the cricketers are in town, you can always find them there." Apart from Magneto in the east, there's City Centre Mall to the west and an under-construction one in the south whose scaffolding proudly reads: 'Coming soon – Babylon Towers — Tallest Building In Chhattisgarh.' There's an artist's impression of it too. It's of a 11-storey building.
I'm not big on mall tourism, so Nitin decides to swerve on to NH6 and towards a place he calls the 'promised land'. But we are forced to wait, for a minister has decided to visit the shopping arcade with his family, cordoning off every road surrounding it.
"We had big expectations when this state came into existence," says Nitin, spitting in the general direction of the minister's cavalcade. "We aspired to become like Mumbai. Today Raipur has Mumbai's malls and their V.I.P culture, but not their growth." Only the stomachs of their politicans living on V.I.P Road, adds Nitin, have ballooned.
We're soon driving through the hallowed V.I.P Road and 20 minutes later, we're at the promised land — Naya Raipur. Or what will soon be Naya Raipur. Today, it's acres and acres of plotted emptiness, barring wild shrubs and stray foundation stones. Tomorrow, it will be Gurgaon, cushioned with the seat of the Chhattisgarh government. "Most of us in Raipur, including me, haven't even been to Mumbai or Delhi. None of us have seen the world," says Nitin. So they decided to bring the world to Raipur.
Nitin believes that Naya Raipur is a gift to the people, only the third of its kind in the short history of Chhattisgarh. What were the first two, I ask. "Inviting Salman bhai as a state guest to celebrate Rajyaotsav (State-formation festival) in 2010. And bringing the IPL to town in 2013."
***
It's seven in the evening and in spite of the high-beam glare of headlamps, I can see scarves. Many, many scarves. We're heading towards the stadium and all the honking motorists around us, boys and girls inside cars even, have wrapped their faces in thin cotton veils tucked under colourful sunglasses.
"It's not a style statement," explains Nitin. "If they don't wear scarves, their parents will find out what they are up to. Someone will surely see them."
"It tells you how small Raipur really is. And it also tells you how easy it is to be a known man here."
(Later, I conduct a rudimentary Google search to find out more about this scarf trend and one article in Dainik Bhaskar read : "Girls in Raipur will even forget their mobile phones at home, but not their face scarves. So they do not want it banned.")
What surely is a style statement, though, is having access to the barricaded V.I.P Road on match-days. "Cars are diverted on to NH6 because only important people can use this shorter route to the ground. Everyone else has to go the long way," says Nitin even as a cluster of traffic policemen lift a nakabandhi to allow us through (although, I must add that they seemed a tad disappointed to not see cheerleaders in the car). "I am not everyone, of course."
At this point, the raid hasn't happened. But somehow, I can almost see it coming.
***
The Shaheed Veer Narayan Singh International Stadium, built 42 kilometres from the city, is every bit as daunting as its name. It's visible from many miles away as no trees hinder your view on what was once a rich grazing pasture. Instead, there are short bamboo poles erected every ten metres or so for several kilometres leading up to the arena, all holding posters of Chhattisgarh's chief minister Raman Singh.
The CM holds a bat in some frames (left handed) and PM Narendra Modi's hand in others (right handed). They leave you with little room for doubt that Singh had a big role to play in bringing the IPL to this cricket backwater. (Unconfirmed reports claim that he invited GMR, the infrastructure giants and owners of the Delhi Daredevils, to build a plant in Naya Raipur. So GMR returned the gesture with a match or two.)
Hence, with the CM's push, it took just four months and many crores to get a local ground up to international standard and IPL-ready in 2013.
It, of course, didn't matter that those crores weren't in any way promoting Chhattisgarhi cricket. The state's cricket association is yet to be represented in the Ranji Trophy or even become a full-time member of the BCCI. But an international standard stadium, Raipur sure has.
Inside, Delhi is bowling and Hyderabad batting. But Raipur is not around to witness it. I'm the only one on Row Y and below me, from Row C to Row X is a sea of blue, folded seats. The visible vacancy is so alarming that the cop stationed in my section of the stand walks up to me and says; "When you come for a cricket match, don't come alone. It doesn't look nice."
What does look nice, for the IPL's roving cameramen at least, are the brimming front two rows, A and B, all around the stadium. Thy are most crowded in three separate pockets; said pockets sitting directly behind a raised podium for Caucasian cheerleaders.
***
Under their dancing torsos, a wave of hands crest. The demographic is wholly male. And wholly mental. All of them have their phones out. And all those phones are directed at self, backs to the pom-poms.
"Initially, it was a cultural shock to see fans doing things which we don't see back home," a CSK cheerleader from Edinburgh, Scotland, one who was 'caught' in the infamous Raipur raid, would later tell a colleague of mine. "Some wait for hours outside malls and hotels to get a picture of us."
They've witnessed far worse, of course. "I've seen people kiss the window of the vehicles we're travelling in," adds Elizabeth, another Chennai pom-pom girl, this one from Surrey. "It's surprising and sometimes confusing when somebody puts their camera right to our behinds and clicks pictures. Yes, we get angry but then we have learnt to mentally block 'em out."
No blocking out happening here. "This is for the boys behind the cheerleaders," says the emcee, egging the crazies on with a song that has the word Raipur in it.
Poore Raipur se alag hai, Saiyaan ji ki shaan, Sasural genda phool.
The boys are in raptures. The line is in a song from the film Delhi-6. Immediately, a chant of 'Dilli six, Dilli six, Dilli six' echoes against folded chairs. It, of course, doesn't matter that Dilli is bowling.
***
I'm happy to report that on my row four chairs have unfolded. Their occupants are a middle-aged couple, their 20-something daughter and a school-going son. Not long after they sit, the mother begins coaxing her son to join the easily-excitable crowd near the cheerleaders.
"TV pe aaoge," assures the mother. The boy, though, seems to be a shy one. He doesn't budge. But he is made to when the mother spots the cameraman walking his measured walk in our direction. She scolds him, getting him trotting down the staircase. And as soon as he reaches the crowd she dips her hand into a large purse and hooks out a comb.
"If the camera points this way, then I need to look good," she tells her husband before training her eyes on her child by the fence. He's too small to plough his way through the crazies and gets left out when his surrounding group is displayed on the big screen.
The boy returns and asks if his family got a glimpse of him on the screen. The mother lies with a jubilant nod. Then she adds, in English: "Hard work always pays."
***
Life lessons learnt, I leave the ground well before the end and find Nitin strolling about, some three barricades past where the ticketless are turned away. We drag our tired bodies back to the car and he already has a cure.
"Yahaan baithke bumper peena hai? (Should we polish off the bottle here?)," he asks. I shrug, too tired to agree or disagree. So he pours two stiff ones and says: "I was in the stadium, it was empty."
How did you get into the stadium, I ask. But his answer ignores my query: "With Rs 150 tickets, everyone gets to be near cheerleaders. The authorities must either price all tickets at Rs 150, or they should place stages on each tier of the stadium for gori mem to entertain on all floors," he recommends in earnest. "It's the only way we will have big attendances again."
Bottle empty, he drops me back to my hotel and we part with an exchange of addresses and phone numbers. But even as he assures me of a Delhi visit, I'm certain that it won't happen. Nitin is not likely to leave Raipur anytime soon.
(With inputs from Nitin Sharma)
Source:: Indian Express