'Imagine how it would have been without Metro,' says Delhi Metro CMD Mangu Singh
Air quality cannot be the responsibility of the Metro, just like the whole transport system of the city cannot depend only on the Metro, says Mangu Singh.
Mangu Singh, CMD of Delhi Metro, discusses targets and achievements with Sumegha Gulati and Pritha Chatterjee.
The Metro was meant to be one of the measures to improve Delhi's air quality by reducing road traffic. Has it achieved that objective?
Air quality cannot be the responsibility of the Metro, just like the whole transport system of the city cannot depend only on the Metro. There has to be a means of supplementing and complementing. We have the numbers to show carbon dioxide emissions on the road came down sharply. We got carbon credits to the tune of 5.5 lakh tonnes last year alone, preventing carbon dioxide emissions of over 3 lakh tonnes. Look at it this way: whatever you see in Delhi air quality is despite the Metro. Imagine what the scenario would have been if the Metro had not been there.
Mangu Singh, CMD of Delhi Metro. (Source: Express Photo by Tashi Tobgyal)
Transport experts talk of a low footfall in many Metro stations whose construction affected air quality…
This story of not meeting targets is an old story. Take any train, visit our busiest stations at peak hours and you will see the numbers we are catering to. Also, the way we measure traffic is any trip of at least 16 km, and from our calculations 40-42 per cent of these long trips shifted to the Metro, especially after phase II. Last year, I think, we doubled the number of long trips since 2010. It is about road versus rail, so each time you take the Metro instead of travelling by road, you reduce emissions by one-fifth. When it comes to stations, their numbers and positions are designed scientifically not just on the basis of everyday use, but also emergency situations. Considering the length of a line, and depending on any emergencies that may arise, station positions are designed. If we do not put these stations at intervals that have been designed, tomorrow we will be criticised for inconveniencing people and going against safety principles. All the stations from phase III have been built adopting platinum green building standards that are environmentally sustainable.
What about the argument that the Metro's carbon footprint rises because it sources power from coal?
The carbon footprints we gain are certified by the UNFCC. Do you think they do not make these calculations? They take into account these emissions at the source, and subtract them, so the achievements are after taking these factors into account.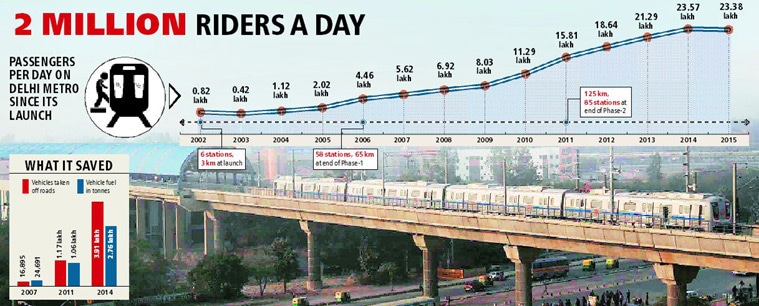 Data source: DMRC (Metro growth) & CRRI (impact on traffic)
What steps did Delhi Metro Railway Corporation take to keep air quality in control, especially considering that a large part of the construction in Delhi in the last 15 years has been because of the Metro?
Right since Metro construction began in 1998, we have been sensitive to air quality and taken steps to monitor pollution levels at our construction sites. In fact, DMRC prepared the standards for green construction and building standards for any Metro rail network and took it to the Green Council of India, the apex body that sets environmentally sustainable standards construction activities should adhere to. From phase I, at every site we appointed health and environmental safety teams who would be responsible for these measures but would not be questioned about the pace of construction. We ensured regular sprinkling of water at construction sites, very sincerely trying to ensure we did not allow dust to settle. A large part of our construction was underground, so especially in excavated areas we were very careful. Weekly inspections were carried out at sites, and contractors and subcontractors were sensitised and monitored.
Are there any lines on the Metro that have proved more environmentally sustainable than others?
Going by the carbon footprints we have gained, for each of these long trips one person undertakes, 11 grams of carbon dioxide emissions that would have been sent out if he or she had travelled by car is saved. Obviously for the yellow and blue lines, which are the longest, the gains are better, because the longer the trip, the more emission you prevent.
What more do you think should have been done by the Metro and other agencies?
I don't want to comment on others, but I think some rules could have been planned and implemented better. Like in our zeal to have more and more green cover, we have planted after all our constructions but been unable to maintain them. Like if you see green plantation along all new roads, who is maintaining them? Similarly, construction debris can be managed better. The growth of vehicles should have been better managed. And like I said, the whole structure of our transport system cannot depend on the Metro to reduce air pollution. We were never supposed to provide last-mile connectivity, and we said it is impossible for us to provide feeder services for 28 lakh people, but then we have provided 200 in stations that are difficult to access, and we are bringing 300 more. So the orientation of other modes of transport should seek to supplement us, and a lot needs to be done in that area, especially with the Metro expanding into the NCR region.
Source:: Indian Express